Learn more about our TouchLessService™.
Read More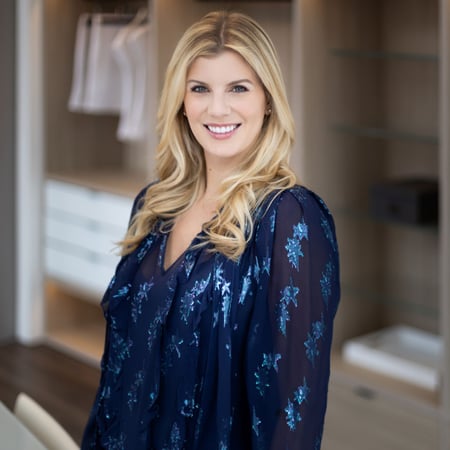 Alexis Williams
Design Consultant
I graduated from architecture school at the University of Oregon with a focus on furniture design. After working at a high-end interior design firm for a bit, I learned about California Closets. It seemed like the perfect fit for me combining my education and skill set. Eight years later and I've enjoyed every moment of it! I love figuring out how to maximize functionality and aesthetics for each specific space, also while taking into consideration each clients specific needs. One of my favorite parts of my job is collaborating with Interior Designers. Some of my favorite projects have been a team process. I've had the pleasure of working with many designers over the years and I love meeting new ones!
Alexis Williams' Portfolio
I'm committed to listening, collaborating, and working with you to design a custom solution that will optimize any space in your home. Here's a collection of some of my favorite projects to help you get inspired.
We had a great experience with Alexis. She helped us create better function and space within our daughter's small NYC walk-in closet. We are so happy with the final outcome. The wood finish is beautiful. Everything Alexis recommended was perfect for us and fit our needs. She was extremely professional and was able to get this done for us quickly and safely during the COVID-19 pandemic. California Closets also worked with our management company and met all of their stringent requirements with ease. Couldn't be happier with the final product.

Alexis came out to our new apartment to help us decide on the style and configurations of a wall storage unit in our dressing room and bookcases flanking our windows in the living room. She was so knowledgeable about the products and gave us excellent advice. Her ideas helped us pick out the perfect solutions. We couldn't be happier! This was the second apartment we used California Closets NY to help us conquer our storage challenges with style! Thank you, Alexis and the amazing installers!

I used California Closets to help me design and then build out an entry closet and master bedroom closet in my new apartment. They were very helpful and answered all of my questions and were patient with me when I was indecisive in the designing process. When it came time for installation, the installers were on time and did an incredibly quick job! I never thought it was possible to have strong feelings about a closet but I absolutely LOVE my two closets (especially my bedroom one)! Pricing was fair (not "cheap" but not a fortune either; and less than other quotes I got from custom designers) and very transparent. I would definitely recommend CC to others.

Amazing from start to finish. Unbelievably clear and easy, user-friendly experience. You guys really have this all figured out!