Learn more about our TouchLessService™.
Read More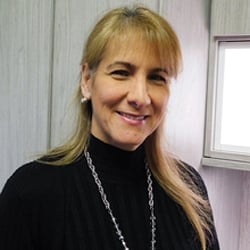 Claudia Tribin
Senior Design Consultant
My passion for this work goes far beyond the creation of a design in a given space; it focuses on improving people's daily lives by transforming spaces in places where functionality is combined with harmony, order, beauty and comfort. As senior designer, is a privilege to work with California Closets where we share principles of integrity, honesty and service with a high level of creativity and quality to deliver our promise of experience second to none. This wonderful mission accomplished daily is only possible thanks to an excellent teamwork, where our customers, are our inspiration.
Claudia Tribin's Portfolio
I'm committed to listening, collaborating, and working with you to design a custom solution that will optimize any space in your home. Here's a collection of some of my favorite projects to help you get inspired.
Claudia Tribin has been an excellent designer to work with. She is calm, articulate, flexible and very professional. She designed our dream closet. She was knowledgeable, customer- focused and an excellent communicator. We will always be loyal California Closets owners.

Claudia was wonderful to work with. Love all the options I had to choose from to get the right look. She was very patient with all my questions too! I would recommend California Closets and Claudia for sure!! From start to finish it was the best service and the best experience and my Murphy bed came out outstanding!! Claudia was the best! Very professional, fantastic suggestions, great eye for detail and just easy to work with and get a hold of with my questions. The installers were clean, prompt, and did a terrific job!

I have to say I wish I would have done this 10 years ago! Wonderful product and even better experience with my sales representative, Claudia Tribin. Claudia was most prompt, professional, creative, flexible & I could go on here! She made it painless and went over and above throughout the whole process! I will be recommending her specifically for friends looking for a closet upgrade!! Thanks Claudia!!

Claudia Tribin - in one word tells you why our experience with California Closets was terrific. Claudia handled us with masterful customer service. She visited our home several times to explain and answer all our questions and concerns. She was meticulous in her analyses of our master closet needs; measuring and spending time in our closet. She also is an excellent communicator and kept in touch with us as much as we needed and her great response time in calling back or texting was super.

Claudia Tribin did an amazing job designing my closet and providing that "California Closets Experience". It couldn't be better! I highly recommend Claudia & California Closets. She went above and beyond my expectations. Claudia is extremely experienced, professional and she really knows her stuff. Thanks to Claudia & California Closets.

I really appreciate how Claudia has been respectful of our wishes and budget. She never tried to push something that we didn't need. In fact she has never been pushy at all, which has made this process very easy, relaxing and enjoyable. She has been extremely professional. I have already recommended her to several friends.