Learn more about our TouchLessService™.
Read More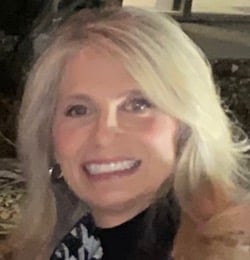 Diane Weber
Design Consultant
My approach when working with a client is to connect completely with them so I can provide a stress-free space for their own peace and tranquility. It was a passion for the arts that led me to a degree in Interior Design. I had been working in various design fields until I found the best fit, being a Design Consultant with California Closets. California Closets is a career where I can use my design expertise to improve client's lives with creative solutions for their home and business. Everyone in our California Closets Family is warm, friendly and attentive. I believe it's our team's commitment to excellence that separates us from the others. My favorite product line is our Eco-resin's, not only because they feature natural elements like leaves, grasses, bamboo and flora embedded in a recycled resin, but because they are absolutely breathtaking to look at and can be used in a variety of ways.
Everything about Diane is polished, professional, and knowledgeable. She has wonderful suggestions for things I haven't even thought about, and clearly knows her products backwards and forwards. The follow-up is timely and complete as well. Additionally, she's warm, friendly, and very easy to talk with. In short, our meeting was terrific! I'm very impressed and excited to move forward! :)

I can't say enough good things about California Closets, but I'll mention a few. First, a Design Consultant named Diane came to our house. Not only is she gorgeous, she's also personable and knows what she's doing. What is more, she always communicated with me and was always on time (none of this "time window" crap), which is something really important to me. Second, the two installers, Arron and Alex, were great. The communication, particular as it pertains to my Design Consultant, Diane Weber. She's great! She confirms appointments and talks to me like a person, instead of just another customer.

Diane was so prepared and presented the perfect solution for our son's closet. She Planned out everything that we needed at the appointment and showed me all the possibilities. I am so excited to see the finished closet! It's so nice to work with someone with so much experience and professionalism.

We made an appointment with California Closets to help us design the inside of a new walk in pantry. Diane Weber is our design consultant , and actually came to our home on Saturday morning which was great, because that was the only time that worked for us. She was great! She listened to what my wife wanted and then started the design process. Diane had a few ideas put together in just a short time, and then started going over them right then and there with her design program and in no time we had picked out what we wanted and what would work best for us. So so far, I would highly recommend Diane Weber of California Closets. She made the design process so much easier than what we thought it was going to be...thank you, Diane.

My designer Diane Weber was very helpful. She was observant and brought ideas to me with an eye for my needs. She gave me different options and stuck close to my budget. All went well. It looks nice and every one involved was helpful. I am very happy with the whole process and product.