Learn more about our TouchLessService™.
Read More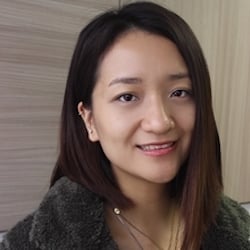 Echo Li
Design Consultant
I majored in interior design with 6 years of design experience before I joined California Closets. My favorite part about my role as a Design Consultant with California Closets is meeting amazing people every day and working with our talented team on various projects. Together, we make the dream of being organized come true. I listen closely to my clients' needs, work effectively to provide the best solution, and design the most functional spaces for them. I'm happy to help others improve the quality of their lives everyday by becoming more organized, saving them time and money. Our limited lifetime warranty shows the confidence we have in our product and services we provide. The flexibility and adaptability of our systems maximize the values of the California Closets experience. "What works is better than what looks good.  The 'looks good' can change, but what works, works." Ray Eames
Echo Li's Portfolio
I'm committed to listening, collaborating, and working with you to design a custom solution that will optimize any space in your home. Here's a collection of some of my favorite projects to help you get inspired.