Learn more about our TouchLessService™.
Read More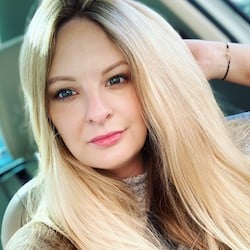 Emily Garland
Design Consultant
Living in a space that's efficient and beautiful can make a significant impact on someone's life. People can be passionate about the things/pieces in their life, and finding ways to showcase them is always thrilling challenge. I enjoy finding the best way to solve those puzzles for my clients, and seeing them happy with their new space is always exciting. I love designing every kind of space! However, I do have a personal interest in books and antiques, so I always get extra satisfaction out of helping a client showcase their prized possessions.
I love the work!!! Emily was very knowledgeable and made wonderful recommendations to building my closet….I love her recommendations. The installers were very professional and display lots of respect for my home. I loved the total experience.

Emily had a solution for every problem. She was always on time and a delight to work with.

Emily has been very professional, knowledgeable and patient. Additionally, she's made excellent recommendations that made my design better that what I envisioned.

Emily has been so helpful and came up with a great design. She really listened to my needs and had some great problem solving ideas.

My designer Emily Garland was fabulous. Very professional and knowledgeable about the process and the CC product. It was a great experience!