Learn more about our TouchLessService™.
Read More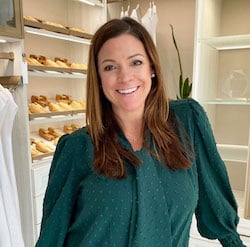 Emily Haradon
Senior Design Consultant + Design Lead
I am a lifelong advocate for all things organization, and have a background in graphic design within the construction industry. Early on, I found that my professional purpose is to create systems and tools to make a difference for people, but little did I know that this statement would be so literal when I began working with California Closets in 2015! Once I experienced my first 3D rendering in the California Closets CAD program, I could see how exciting it is to bring a new design concept to life. 7 years later, I still enjoy embarking on each and every new project as no two clients, families or homes are alike. With unlimited design options and the best accessories in the business, the possibilities are endless. A project of any type may sound daunting too some, but I am here to guide you thru the process in a way that works at your pace, as well as within your style, needs and budget. I do all of this, because I understand what a difference an organized home can make, and it's my hope that our work together, will allow you to enjoy having more time to focus on what matter most to you and your family. I look forward to working with you! .
would absolutely recommend California Closet to a friend, family member, or business associate. In fact, I would "scream" it from the rooftops. Emily and the Install Team did GREAT work!!! The attention to detail both in the desid installation were remarkable!!! The high gloss, Dove White was a knock-out look! What made the look over-the-top was the terrific install job! Thank you all for making my new California Custom home closets gorgeous and functional. The closet system enhances the house's value and design.

If you get a chance to work with Emily H. - you are going to get the best closet possible and the best customer service imaginable. She will deliver the perfect closet design and system based on your budget and listens to all of your suggestions. I LOVE her.

Emily was amazing. Taking time to understand what we need and our vision. It was a more simple setup but it was fully customized to us and even altered a little for our cats. The installer was quick, covered the new floors and very nice.

We are.extremely happy with the quality and workmanship of our new garage cabinets, and closet organizers. It has made a tremendous difference in the amount of space we have. To be honest, we didn't anticipate that much usable space. Thank you to Emily for the great designs too.

Far above all of your competition. Very impressed with Emily Haradon's design ideas and technology that she used to keep everything clear and organized.

Emily Haradon, our design consultant, was amazing. She was easy to work with, and her professional advice and design for our closets came out perfect. We love the quality that we received from California Closets.

Emily Haradon was an excellent sales person. She was very thorough and the follow through was top notch the entire project. Highly recommend her for any job.

Emily was amazing through each step of the process. Her design ideas and recommendations were perfect for incorporating function while still considering the visual appeal!