Learn more about our TouchLessService™.
Read More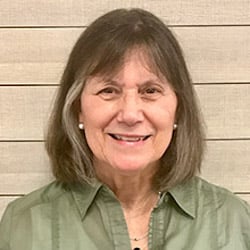 Ginny Kayser
Design Consultant
I've been a design consultant at California Closets since 2001 after working as a flight attendant for 25 years. You may think that these two careers couldn't be more opposite, but in fact they are quite similar. Airplanes are a perfect case study for organization and storage. There is only so much space on a plane. Available space is engineered down to the smallest degree in order to maximize efficiency. Combined with my natural tendency towards organization, my in-flight experience serves me well when collaborating on storage solutions in customers' homes. The two parts of my work that are the most satisfying are meeting and talking with customers and working through storage challenges much like solving a puzzle. There are many possible solutions to every situation, but my interest comes in finding those that are the most efficient and serve the customer's spatial, budgetary, and emotional needs. I love learning about my customers and drawing out details of their lives to aid in the planning process. You never know what tidbit of information might offer insight into which direction a solution should go. People have strong attachments to their possessions and their homes and it's my job to weave all of these elements into the perfect design. You begin your day in your closet and end it there too. If you start your day organized, your head is clear, not cluttered. It sets you up for success for the rest of the day. We live in such hectic times and being organized saves precious time, which is something we could all use. The greatest gift for me is hearing a client's excitement upon completion of the work.
Ginny Kayser's Portfolio
I'm committed to listening, collaborating, and working with you to design a custom solution that will optimize any space in your home. Here's a collection of some of my favorite projects to help you get inspired.
John Youman, the installer was both professional and courteous. He did a great job following the plans provided.  I also loved the sales rep, Ginny Kayser.  She left me with a complete picture of my wardrobe.  No hidden fees, the entire staff has been courteous and polite.

I am very pleased with our closets and with your professional staff. I look forward to doing business with you again.

The entire experience was positive for us, from seeing what was available in the showroom to the actual installation.

Was a great experience! My closet looks absolutely amazing and the whole process went process.