Learn more about our TouchLessService™.
Read More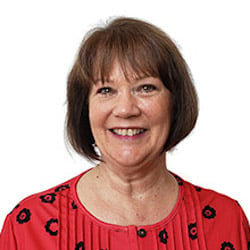 Janet Higbee
Design Consultant
The most important time we spend is at home, and we are better prepared to take on the world when our homes are organized and look and feel just right. For me, the design process begins with listening closely and asking questions to completely understand a client's unique needs. I love the challenge of incorporating all the puzzle pieces: Individual needs Physical dimensions of the space Spacial ergonomics Comfortable budget Style or fashion desired Many times the design is affected by the level of priority given to each of those elements. Ultimately, a design solution will transform the space into something the client can envision and value. Together we collaborate every step of the way, and through our amazing technology of CAD software, we can illustrate 3-D designs, bringing them to life with details like clothing and shoes. We can fine-tune the colors and accessory choices instantly until a perfect solution is reached. It is truly a fun and exciting process that can happen on-site if there is time, or by a second appointment at one of our design studios where many choices of finishes and styles are displayed. I love the people I work with, and value each opportunity to create a memorable experience and make a difference in their lives. I have been with California Closets since 1984 and love introducing people to the very finest storage solutions in the industry.
Janet Higbee's Portfolio
I'm committed to listening, collaborating, and working with you to design a custom solution that will optimize any space in your home. Here's a collection of some of my favorite projects to help you get inspired.