Lead Design Consultant for Philadelphia Franchise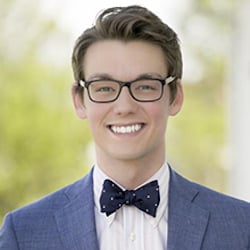 John Yoast
Lead Design Consultant
"It is not enough that we build products that function, that are understandable and usable, we also need to build products that bring joy and excitement, pleasure and fun, and, yes, beauty to people's lives." –Don Norman I started with California Closets for the opportunity to help design better lives. I am excited to listen carefully and provide solutions that meet your needs and exceed your expectations. I cannot wait to meet, collaborate, and most importantly have some fun while we create the perfect space!
John Yoast's Portfolio
Here's a collection of some of my favorite projects to help you get inspired.
John Yoast was beyond fantastic. In an industry where sales and volume are critical, John took the time to carefully design our project and answer every question and alleviate every concern. The installation was flawless. We would highly recommend California Closets!

Fantastic experience -- the home office design that John Yoast and I collaborated on came out even better than I imagined because of John's input and the professionalism of the installer, Mike. Both John and Mike are TRUE PROFESSIONALS. Super happy with how my home office looks and functions.

We had such a great experience with John Yoast. He had a tremendous amount of patience for us, guided us in the right direction, and was able to install for us quickly! We love how everything came out. Thank you!

We love working with John. He meets all of our needs and expectations. He thinks outside the box, keeps budget in mind, and certainly knows his product.

Once again, California Closets has exceeded our expectations. The entire experience from design to installation was professional and perfectly executed. We are looking forward to our next project.

Absolutely plan to recommend California Closets to anyone seeking to improve organization and maximize the space in their homes. John Yoast made the planning process enjoyable and Mike provided 'white glove' service with a seamless installation. We couldn't be happier with our new closets.. thank you!

Working with California Closets is fun, easy, and wonderful. Everyone is professional and excellent at their job. Our designer John is fun and REALLY listens to us. He worked hard to make sure he was able to give us everything we wanted in a functional and beautiful space. The installers are hard workers and know what they are doing. I wish every contractor was as good as California Closets.