Learn more about our TouchLessService™.
Read More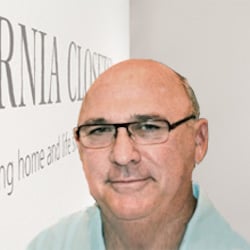 Kenny Moss
Design Consultant
I have been in the customer service business my entire career, with the last 8 1/2 years spent working for California Closets. Working for the leader in the industry, having the visual computer design system we use, and offering our clients a Lifetime Warranty make me proud to represent California Closets.I really enjoy meeting new people every day to help them solve their different organizational issues, because I truly believe that doing that will make their lives better. I am very focused on listening to my client's wishes, planning their organizational needs, and above all fulfilling my promises to them. I always get tremendous personal satisfaction from each job, knowing that I have designed something special and unique just for that client.Success is simple. Do what's right, the right way, and at the right time!
Kenny Moss's Portfolio
I'm committed to listening, collaborating, and working with you to design a custom solution that will optimize any space in your home. Here's a collection of some of my favorite projects to help you get inspired.