Learn more about our TouchLessService™.
Read More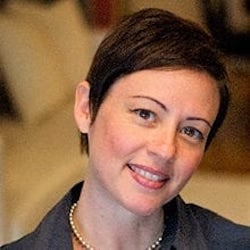 Leah Ansel
Design Consultant
After 12 years in the New York fashion industry (including Henri Bendel and Lucky Magazine), I followed my bliss into a career designing Interiors. I naturally began by merging those two passions into a business where I created beautiful wardrobes and closets. Soon thereafter, I had the opportunity to work for an award-winning architect based in Soho while I continued my formal education at FIT. Several years later, with my experience and education to guide me, I started my own Interior Design business based in NYC, a venture which was ever inspiring, challenging and rewarding. 17 years later, it was time for a change of pace where I intended to balance my love of the indoors with my love of the outdoors. So, from the canyons of Manhattan to the mountains of Colorado, I am thrilled to be living in the beautiful Denver area where I am part of the California Closets team! I can't imagine a more fulfilling career than improving people's lives through beauty and design. I love to draw from my background in decorating, fashion, art & architecture. What inspires me are the places I go, the people I meet, and especially the joy my clients express when their spaces are transformed. I believe that well designed environments enhance our lives on every level – this is not a luxury but a necessity to a well-lived life. I bring to each client my passion for excellent design and a collaborative spirit. Listening to the individual's needs, I interpret solutions that include functionality and aesthetics, which can be informed by the surrounding spaces to allow a cohesive flow. My goal is for every client to experience what an industry leading company has to offer with the White Glove customer service we provide as a team – from design, to product quality, to installation. To paraphrase Winston Churchill, "We shape our environments, thereafter our environments shape us."
Leah Ansel's Portfolio
I'm committed to listening, collaborating, and working with you to design a custom solution that will optimize any space in your home. Here's a collection of some of my favorite projects to help you get inspired.
Pretty impressed with the in home consultation. I honestly wasn't expecting it to take long or for there to be any real big ideas, but I was very wrong. Leah came to our house and had more ideas than I could have imagined. She came up with a solution that had never even occurred to my wife and I in the 6 years that we owned our home. I now truly believe that this is going to solve all of the frustrating issues we have had with our house...

Very encouraging and helpful. Extremely knowledgeable.

Very perceptive. Has excellent vision. Really listened to what we wanted and were working with.