Learn more about our TouchLessService™.
Read More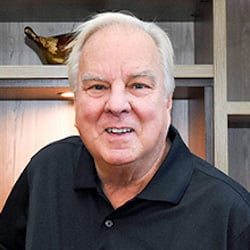 Leo Oshinsky
Design Consultant
I was one of the first customers at California Closets Michigan, and I loved the work so much that I decided to become a designer myself. I have been designing spaces with the company for over twenty years now. As a retired educator and coach, I am able to apply many of the same communication skills I gained in my previous career-; listening to your needs and interpreting them into beautiful storage solutions. When I can truly meet my client's needs, I am giving them an investment in their home and simplifying their life. I continue to stay up to date with the latest 3-D rendering software so people can truly visualize their closets, home offices, or garage units as I design them. I believe an organized home reflects a pride of ownership in your surroundings. It is very enjoyable to work with people and see them delighted in their home improvements.
If you know Leo I'm wasting my time, but I'll waste it!!! First, he is courteous and collaborative in terms of what you're looking for and what your specific needs are. His expertise is unmatched - he explains the company and the products like he makes them at home! I have never bought something without 'physically' seeing it, but I knew I was going to be to happy and satisfied because of your designer's help. HE IS THE GUY!!! I own my own business, and employees like Leo are not only hard to find but people I look for!!! Bottom line is Leo knows his stuff and was a pleasure to work with. I recommend him 1000 percent!!!

I love Leo, my sales rep. He's the best. He's very organized and makes things work. He also goes the extra mile to make sure his clients are happy. The product is great and I love opening up an organized closet.

Leo did an outstanding job listening to what I wanted to accomplish in the redesign of my closet. He shared some amazing ideas! Grateful for his patience and precise closet design.

I appreciate the attention to detail while helping me understand the options CC has to offer. I really love working with Leo, he's a great listener and you can tell he really wants the customer to be satisfied with the end result.

The representative, Leo, came to our residence and answered all of my questions, showed me the designs in 3D and everything concerning our first appointment went very smooth. Leo is low-key, easy to communicate with and truly an excellent designer.

Leo was great! He was very patient and thorough. The prices were not as expensive as we thought. It was a great experience and we look forward to the new function our California Closets will bring us!

Leo was very honest and attentive when answering all questions and concerns. He was very quick and efficient in designing what I envisioned, experienced and well-versed in everything California Closets offers.

Leo is the best! We have had all of our closets done by him in all 4 of our houses.

Leo Oshinsky was wonderful to work with – no pressure and very knowledgeable. We liked him a LOT!!!

Leo was friendly and knowledgeable. He had great suggestions and was able to come up with a plan that pleased both me and my husband!