Learn more about our TouchLessService™.
Read More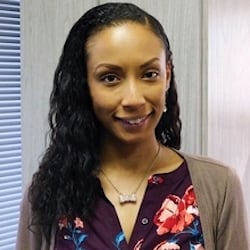 Marcelli Jenkins
Design Consultant and Social Media Liaison
I love designing better lives and working for California Closets allows me to do just that. My background is in Interior Design, so I understand the needs and wants of my clients. With a passion for visually balanced and pleasing spaces, I am able to create uniquely designed spaces for each of my clients, providing them with a storage solution that is not only functional but beautiful. As a design consultant, clients look to me for guidance and expertise, and I take pride in knowing I've designed a space that has improved the quality of their life. Additionally, I have taken the reigns to lead the DFW area into utilizing social media to show the great things going on in the Dallas market. I currently run the DFW Instagram, LinkedIn, and Twitter pages.
Marcelli Jenkins's Portfolio
I'm committed to listening, collaborating, and working with you to design a custom solution that will optimize any space in your home. Here's a collection of some of my favorite projects to help you get inspired.
My experience was excellent! Marcelli Jenkins came up with a design that was perfect for our mudroom. The installation was on time and went very smooth. We are really enjoying our mudroom thanks to California Closets!

Marcelli, our sales rep, was very professional and punctual. Her appearance was exceptional, showing that she took her job seriously. She explained everything clearly. I liked the way she set up the closet system on her laptop so we could visualize exactly what it would look like and could tweak it along the way based on our input. The showroom was set up so well and gave us additional ideas for our space.

Marcelli is very professional and efficient; Great quality of materials.

Our designer, Marcelli, was amazing. She listened to what we wanted and was able to deliver a variety of options for our space. The main reason we selected California Closets was because of her. The installers did a great job and were very professional. Overall we were very satisfied with the experience we had with California Closets.

Our designer was very knowledgeable and helpful, and we like the California Closets product.

Marcelli was responsive and made a major effort to understand my needs. She made me aware of special promotions and suggested a payment solution that allowed me to get 90% of the areas I wanted designed in my home!

I honestly never thought I could afford a California Closet, so when I sent my initial budget over before my meeting, I was expecting to receive an email saying there was nothing in that price range. After the process, I found that I'm getting higher quality and more bang for my buck than I was going to get with another well-known store who could only offer me wire shelves and brackets. I thought that was the only thing that would keep me in budget, but I'm SO glad I didn't stop there! Working with Marcelli has been so easy and far exceeded my expectations. Before our meeting, she had several options prepared within our budget. During the meeting, I was able to choose one and customize it with little "must-haves" for myself and my husband's needs, and we were able to work through it all while staying on budget! She truly listened to our desires and showed me literally every possibility. I never felt rushed, and I left feeling confident I had been taken care of.