Learn more about our TouchLessService™.
Read More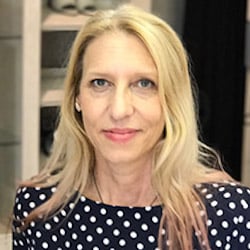 Mary Abshire
Design Consultant
Mary joined California Closets in 2016 and believes the key to organization is in the Math: Space vs Needs. She loves to create order first, then add the details and elements to make them beautiful and comfortable. As an only girl with 5 brothers, she grew up putting things in their places, or at least trying to! She's raised 5 kids and organization has been a fundamental part of her life, serving her well when managing all the accumulations you gather in life's journey. "Working with people is the best part of designing; By creating solutions and bringing order or simplicity to their homes, I'm giving light and comfort to someone's life. It's a gift and a reward all its own". She particularly loves the new "Everstyle" line, exclusive to California Closets. Mary resides in Pensacola and serves all along the Gulf Coast. In addition to her Design career with California Closets, she is the chief caretaker of her mother in her late 80's and is very active in local community and networking groups.
Mary Abshire's Portfolio
I'm committed to listening, collaborating, and working with you to design a custom solution that will optimize any space in your home. Here's a collection of some of my favorite projects to help you get inspired.
Mary was awesome with designing my small closets. And the young man from New Orleans with the New York accent was very good and efficient at his job. My little small closets are so fabulous. I can put so much more in and more organized. Looks fantastic!! Highly recommend!!

Everything is perfect! Our Designer Mary Abshire did an amazing job and she was fun to work with. We also had a great installer, and now we have the perfect closet!

It was amazing. Mary my sales rep was very attentive and responsive. She made the experience so smooth and wonderful. I would definitely recommend California Closets!!!