Learn more about our TouchLessService™.
Read More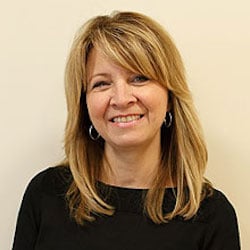 Millie Adler
Design Consultant
I have been with California Closets since 2006 and I come to work with a smile on my face every day. My career in closet organization began at a very early age. As a young girl, I'd reorganize my clothing, grouping items by category. My mother was so proud that she'd show my closet off to friends and family. Who could have known that a career was starting from such humble beginnings? I graduated with a BFA in Interior Design from the Fashion Institute of Technology years later, continuing down my chosen path. I now have four children of my own and I fully embrace the importance of having things organized. The facet of the job that I love the most is interacting with customers and working through design challenges with them. It's important to give people options and then collaborate on the editing process to find the solution that is going to fit their needs and spaces. Simplicity is key. Complex installations will not help the customer in the long run. As one of my design instructors always said, "Less is more." If a design flourish doesn't serve the overall goal, it needs to go. I truly enjoy working with people and their best interests are paramount. When a storage solution is installed and the customer is thrilled, I have accomplished my job. What a wonderful feeling.
Millie Adler's Portfolio
I'm committed to listening, collaborating, and working with you to design a custom solution that will optimize any space in your home. Here's a collection of some of my favorite projects to help you get inspired.
We are very pleased with our closet. It is a perfect  addition to our new bathroom.  Millie was great to work with, always quick to respond to questions.  The installer, Jason, also did a great job. Everything promised was delivered.

Professionalism and knowledge. Representative that came to the house, Millie, was so nice and helpful. The installer was excellent and made sure it came out perfectly and I was satisfied! Very pleased and would definitely recommend.

Life changing. I loved the service Millie gave us and recommend her to my mom who used her as well. I will have her back to do my laundry room. Love the guarantee and love he look. Thanks California closets for changing my life!