Learn more about our TouchLessService™.
Read More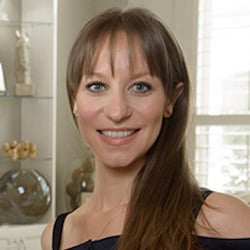 Naomi Carter
Senior Design Consultant
Naomi found a home at California Closets in 2010 and it was a perfect fit. As a person that has naturally been inclined to seek order from chaos, combined with her passion for fashion and design, she has spent the last 10 years helping clients find peace in their spaces. Naomi has worked on projects at every level, from the smallest of spaces like random nooks, to expansive collaborations that were years in the making. Her design work was noticed and published in California Closets' magazine Ideas of Order. Several of her designs have been featured in a national commercial campaign for California Closets called Client Stories, where her and her longtime client talked about the many projects they had completed together over the years. She believes that a glamorous space is one that is organized. "It's not always about adding in everything into the space, the simplest of designs actually take more effort than you think, and those spaces really are timeless." While Naomi spends most of her time working with clients that have been referred to her expertise from previous clients, she also continues to collaborate with leading trade partners throughout the Gulf Coast. Her favorite part of what she does is seeing the transformation not only in the space, but in how her Clients feel about the project. Her ability to turn stress into joy through collaboration and the evolution of a vision keeps her passion flowing.
Naomi Carter's Portfolio
I'm committed to listening, collaborating, and working with you to design a custom solution that will optimize any space in your home. Here's a collection of some of my favorite projects to help you get inspired.
Excellent. Naomi, my designer, is friendly, knowledgeable and her experience with organization is mind blowing. Plus, she has an excellent eye for design. JT handled the build with great care and ease. A pleasant experience all around.

We were return customers from 1997 (!) on our former home and knew that our return experience would be wonderful- and we were again very pleased with six total designs by Naomi Carter, from Master and Guest and Linen closets to Wall Bed/Office to custom Bar to Laundry Center. Our new permanent full-time condo space has been maximized for efficiency as we enjoy our retirement years. Thank you California Closets!

I was very impressed with how easy the process went from start to finish. Naomi took my very small vision and created one of my favorite parts of my entire remodel.

Naomi is a wonderful designer. We collaborated well on the project. And Ryan the installer must be one of the best. Hard working and very detailed focused. I have used California Closets in the past and will use again. Thanks for creating the garage into a sports car space.

Naomi with California Closets Baton Rouge was personable, professional, and made the entire process  fun and stress-free! I would refer anyone interested in customizing their closets to Naomi and the California Closets team. Their quality and service is unmatchable.