Learn more about our TouchLessService™.
Read More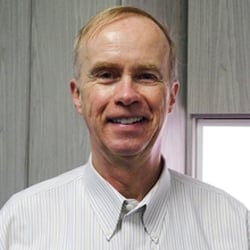 Patrick Hausske
Design Consultant
My creative energy is inspired by classic and contemporary architecture such as the Bauhaus movement and Arts & Crafts styles. I have decades of interest in home improvement and space planning, and years of experience as a professional organizer. I am a huge fan of modern design geniuses such as Frank Lloyd Wright and Philip Johnson. Having a great understanding of their work, helps bring a deep understanding of engineering and organizing principles to help customers make the most of their spaces. I thrive on the immense satisfaction from helping to make customers' lives better by improving the usability, functionality, and visual appeal of a space, whether it be a small reach in closet, or a grand media space or home office.
Patrick Hausske's Portfolio
I'm committed to listening, collaborating, and working with you to design a custom solution that will optimize any space in your home. Here's a collection of some of my favorite projects to help you get inspired.
Had an absolutely wonderful experience planning this closet with Patrick. He is very professional and knowledgeable. I believe the installer was Mike. He was great as well. Called before coming, showed up on time and did an excellent job installing. Very friendly staff. I can't wait to move my clothes in, in the next few weeks.

I love my sales rep, Patrick! He's such a good listener, drives the distance, makes whatever changes necessary (if any), crumples up his ideas if you changed direction, corrects the invoice if necessary & even if it's to clients benefit & and delivers gifts and good tidings upon unleashing his boys to make claim to your spaces for installation! The installers are polite, courteous, neat and clean!!! Thank you Lord!!! Such a rarity in today's construction milieu! They could hardly get out the door before I filled up the cabinets!!

Overall, a very positive experience. I needed a pantry and two closets reconfigured so that the space would work for two adult additions to my family. Also, I did not want to dispose of things to make room. From start to finish. CC took this into account and designed a space that worked for all of us. I was able to have dedicated pantry space for each member of the family and more importantly, the design of the master bedroom closet allowed me to keep all my shoes!