Learn more about our TouchLessService™.
Read More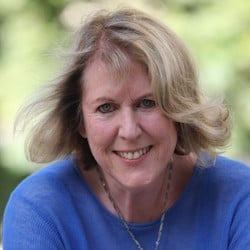 Patt Sendejas
Design Consultant
It is fun to see how an environment can be transformed to be not only beautiful but also functional. I have found when an environment is improved using good design principles, the lives of the end users are greatly impacted for the better. Advantages include saving time by ease of access, having a place for important items, best use of available space, and also causing the user to feel good looking at and spending time in a beautiful space! I love to magically bring a client's design to life using our unique California Closets Computer Aided Drafting Program (Remove especially) when revealing that design for the first time to a client. I enjoy working with my clients over Zoom on Virtual Consults because our computer CAD Program is so unique in that it allows me to show my client a video of their space and give them a realistic view of the finished interior as well as price on our first consultation. Once the client is ready to move forward, I visit their home to take final measurements and discuss finishes before the order is placed. I also find it fun for the client to get involved in the design process working with me over Zoom! I'm a winner of the Coppes Award Winning Kitchen Design and am a Certified Designer in the State of California.
Patt Sendejas's Portfolio
I'm committed to listening, collaborating, and working with you to design a custom solution that will optimize any space in your home. Here's a collection of some of my favorite projects to help you get inspired.
AMAZING!!!! EXCEEDED MY EXPLECTATIONS!!!! PATT WAS AMAZING AND SO HELPFUL. LOVE HER!!!! I cannot tell you how much I love my closet, it is unbelievable. I just can't wait to put my clothes in it. We could not have picked a better finish; we could not have picked a better design. I love my little safe, I love my little handles that have bling, bling, and matches my chandelier. My God, everything is so perfect. I am so happy!

Patt Sendejas did an excellent job. Very thorough, friendly, helpful! I would recommend her and California Closets to friends and neighbors. Nice work. All aspects of the project were completed very well. From planning and design, the installation the work and service were preformed in an excellent manner.

Thorough and complete presentation. Patt is the real deal. Leaves no stone unturned. Wonderful design skills and ideas. No closet should be designed without her! It was great from the first meeting with Patt to the formal presentation to the professional installation to the follow up. Class act organization.

We were very impressed by the initial Virtual Zoom meeting and really like how Patt went over everything. She showed us the samples, the finished product from what her other clients did, and we especially liked the 3D CAD rendering. We knew what we were paying for. Patt was very knowledgeable and explained everything clearly. We shopped around and California Closets was the best by far. We told Patt our budget off the bat and she was able to get us what we wanted under budget.

We loved how easy Patt Sendejas, our design consultant made this experience. We had worked with a different closet company in the past, and this experience was light years ahead and better. She was so knowledgeable and helpful, the computer program showed us our daughter's new closet right there at our table. We were so happy and excited with our daughter's closet that we decided to have Patt design two other closets and an entertainment center for us!