Learn more about our TouchLessService™.
Read More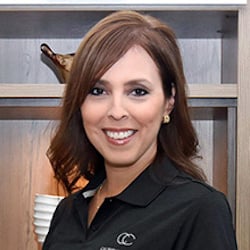 Raquel Donaghy
Design Consultant
As a designer, I enjoy creating beautifully functional spaces. My purpose is to implement storage and wardrobe areas that are high functioning and are aesthetically pleasing. Organizing your closets and storage spaces will bring peace and order to your everyday life. I create areas for every client's lifestyle, needs and personal decor in mind. I take underutilized spaces and transform them into structured splendor within your home. A well designed room will also add value to your home. As an Interior Designer for over twenty years, I assist my clients with not only organization, but also in finding the perfect finishes and color selections that will bring to life the space you have always dreamed of. I promise to bring your entire project together, and make it the essence of your personal style. Every California Closet layout I design will bring a calming beauty into your home and your life!
My husband and I like the time and genuine attention that Raquel has given us. We appreciated how well she listened to our needs. She had a plethora of ideas to share with us and that made us even more excited to begin our projects.

I found Raquel very informative and trustworthy. I really liked her ideas to use our space in a good way.

I like the professionalism of the designer. She was friendly and answered all of my concerns and questions. She perfectly understood my needs. She designed a perfect space closet space for me.

Love that Raquel really wants to help us make the most of our space and make it look good, also. She really listens and I'm looking forward to seeing what great ideas she has for our unique spaces.

Raquel was great! Her knowledge about the business was very helpful. I would recommend her to anyone interested.

This is the second time we have consulted with California Closets to give us a design – we are satisfied customers. Your designer Raquel was friendly, of course, and very helpful with ideas, as well as being respectful of my own ideas and concerns.