Learn more about our TouchLessService™.
Read More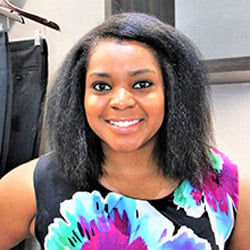 Shanoah Captain
Design Consultant
I'm Shanoah Captain, a Design Consultant at California Closets. I love working here because it gives me the chance to interact with several clients and design all sorts of spaces. Being creative and getting to know each client to design a custom space for their home is my favorite part of the job. I've been in design for quite a few years and I have loved every minute of it Million Dollar Designer Award Highest Average Sale Annually Award, Achievement of Annual Sales Goal Award Employee of the Month Award
Shanoah Captain's Portfolio
I'm committed to listening, collaborating, and working with you to design a custom solution that will optimize any space in your home. Here's a collection of some of my favorite projects to help you get inspired.
Shay Captain is a dream to work with! She offers great advice and works to get the vision just right.

Shay was great to work with! She was quick and thorough with the design, our build team came in and got the job done quickly, everyone was very friendly and professional, and Shay followed up with us at the end. Overall great experience! We are very pleased.

Getting our California Closets was top notch from the beginning to the end. Ask for Shay as your designer, she is AMAZING! She worked with my husband and myself to design our dream closets. She is the most patient, brilliant designer we could have gotten, she definitely went above and beyond what was expected and our closets turned out better than we could have even imagined. Thank you, thank you, thank you. Everyone that sees my closet says it looks like they are walking into a designer store downtown.

hay Captain was my consultant and she was absolutely fabulous! This is not just a cliché review. Shay was professional, listened to all of my needs and wants and incorporated them in her design ideas, of which there were at least 4. One of the valued aspects of our interaction was that she stayed within my budget, but offered affordable options that would elevate my design - from all white to one with capri accents.

This is the second time using California Closets, The service was exceptional and the customer service goes way beyond what is expected of a closet company. The installer was on time and explained the process for the installation and gave me feedback if he had to deviate due to unexpected circumstances with the closet. My agent, Shanoah , is very personable, honest and accommodating. Based on both of my experiences, I will always use them for future closet design and installation.