Learn more about our TouchLessService™.
Read More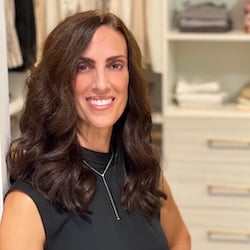 Shea Beaudreau
Design Consultant
Working for California Closets allows me to blend two passions, organization and design, to create better lives for my clients. While building strong relationships with each client, my passion, commitment, and professionalism is evident every step of the way. I work diligently to help clients create custom solutions that will not only fulfill their needs, but that will also reflect their unique personalities and lifestyles. I feel so fortunate to be part of California Closets, a reputable company that offers amazing products and tools, an experienced, professional team, and talented installers that make your vision become a reality. I look forward to building new relationships, creating unique spaces, and offering you customized organizational solutions. Call me today to schedule your free in home consultation! Education: B.A. Special Education M.A. Educational Technology Leadership
Shea Beaudreau's Portfolio
I'm committed to listening, collaborating, and working with you to design a custom solution that will optimize any space in your home. Here's a collection of some of my favorite projects to help you get inspired.
We are completely satisfied with the entire experience. The level of interest and attention to detail during the design phase is impressive. The installation crew is friendly and courteous. The quality of the materials, the fit and finish, are nearly perfect. The clean-up at the end left our closet pantry spotless. We couldn't be happier with the results.

Complete storage solutions for the complete house. There's none of "we don't do this," or "we can't do that." Complete range of detailing from bare bones to luxe. Complete responsibility for design, installation, and lifetime warranty shows confidence in your product and your employees, and professional integrity. I can't wait to see what y'all come up with for our house.

She was great. She was on time, friendly, efficient, and listened to what I am trying to achieve. And she has been willing to make changes as I tweak things to stay within budget, and also she has responded very quickly

Shea Beaudreau was very personable, professional, and really knew what she was doing. She paid careful attention to our needs and wishes and expertly incorporated them into the design. It is impressive to watch her navigate the CAD.

Loved her attention to detail and creativity!

This has been an excellent experience from the very beginning. Shea has communicated quickly and efficiently and made herself available with short notice to measure and do our consultation. I'm so impressed with her turnaround speed! She did a phenomenal job of building our projects based on our needs and price points and she also made very helpful suggestions. Phenomenal experience!

The entire process was seamless. My design consultant, Shea Beaudreau, took the time to find out what I really needed, made suggestions, and designed the perfect closets to meet my needs. The installer was professional and made sure that everything was perfect. I will recommend California Closets without reservation.

From start to finish, this experience was excellent. My designer, Shea was phenomenal at listening to my needs and implementing the best systems in our closet that would work best for my husband and myself. Our space has been totally transformed and we are beyond thrilled with the finished product. The installers were amazing too - total white glove service. I have never felt more fancy or like more of an "adult". Thank you!

We are so glad we went with California Closets! Shea, our sales representative, was amazing! She paid attention to everything we wanted and followed up on every detail.

I had a great experience! Shea was very helpful during the design process. Her attention to detail helped her create a custom system that met all of our wants and needs.