Learn more about our TouchLessService™.
Read More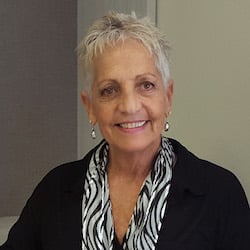 Bette Seibel
Design Consultant
I'm proud to say I've been a design consultant with California Closets since 1987. What makes it worth it all, simply, is the superior products and service we offer and the clients who understand our value proposition. Not only are California Closets solutions beautiful, we understand that they are an investment in client homes that should bring them years of organizing peace and tranquility. It must be true when they say, "Time flies when you're having fun." To this day, I still love my work; I find it challenging but mostly rewarding.
Very professional. Loved the experience.

Excellent knowledge shown by the salesperson.

Bette was wonderful!!

Bette had a great personality, detailed and thorough. Thank you.

We were very pleased with Bette Siebel. Her experience was evident in her questions and feedback. She made sure to ask the right questions to get a complete picture of our preferences and needs. She was very easy to work with as well. We also had a good experience during the installation, as noted in the written survey that we submitted. They were efficient and simultaneously considerate, and the workmanship was stellar.

Bette spent time talking to me, asking me questions about what I planned to store in each space, and suggesting better configurations of available space. The installer was quiet, efficient, and cleaned up after himself. It was a pleasing experience. I plan to use California Closets again.

Amazing customer service from the first call back to book my design appointment to the knowledge, perception, beautiful designs and warmth we received from our designer, Bette. . She listened and made all my dreams a reality, I am excited with the finished product👏🏾👏🏾👏🏾🎉🎉🎉

Bette was fabulous and I love my closet!

Our designer Bette is very talented and drew up a plan for us that met our needs. We were looking for something functional that would increase the usage of our space, and Bette hit a home run!

What a great experience. First, our consultant, Bette was very knowledgeable, getting to know our needs and designing specifically for those needs. Next, our installer came on time, was very pleasant and did a great installation job. He left no sign of construction (aka cleaned up perfectly). I am so happy with our choice to go with California Closets.

Bette was very friendly and professional! She made the process fun and easy!