Learn more about our TouchLessService™.
Read More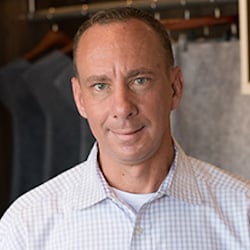 Brian Gudinas
Design Consultant
I am a third generation Arizona native. I have worked in design and space solutions throughout my entire career. I have a passion for design and am focused on results. My purpose is to design better lives. I truly enjoy collaborating with every client to ensure that each design fits their specific wants and needs. It is always a great feeling when clients tell me how much our work, and the California Closets experience, has had a positive impact on their lives.
From consultation to installation California Closet has top notch service and product. To be able to visualize the images during initial consultation helps make decisions and see what you are creating. The drawings and quotes come immediately and make it easy to schedule as soon as possible. The installers called ahead, were on time, friendly, they put down blankets to protect floors, are conscientious about checking for wall decorations to ensure everything is safe.

Brian was wonderful he listened to my desires...and came through!

I worked with Brian and his team and they have always been very professional and qualified. I absolutely love everything about the closets they installed for me. Once my sister saw my closets she wanted one too, so I gave her my contact information for my consultant/designer Brian. I would like to talk about a very personal situation with my sister. She had a massive stroke a couple of years ago and unfortunately lost a lot of her ability to communicate, or speak clearly. As you can imagine, it has been very frustrating for her. I have witnessed people becoming impatient and unkind to her in stores when she cannot find the right words to answer their questions. I told Brian about her situation. It has meant the world to me that Brian and his team have gone above and beyond to be kind and understanding to my family. They all stepped up to the challenge and now my sister has a California Closet in her home. THANK YOU SO MUCH for all that you do.