Learn more about our TouchLessService™.
Read More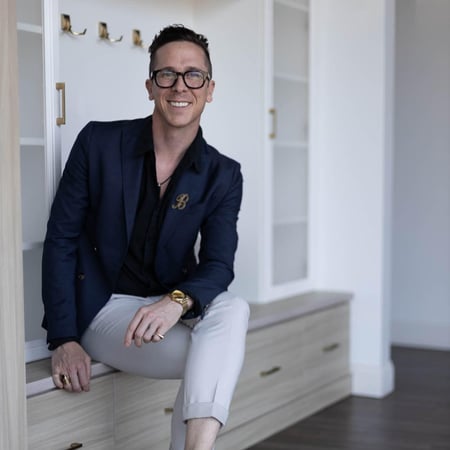 Brian Ogle
Design Consultant
As a designer with California Closets, nothing makes me more at ease knowing that everything has a place. I have a great passion for helping my clients achieve this as well. Organization and a proper relationship between form and function has always been important to me. It is my goal to assist my clients in creating a useful space based on their needs and wants. Designing better lives is really what we are trained to do. From the initial consultation, to the design process, we transform a space to meet your needs. Our 3D CAD software makes it easy for our clients to take part in the creativity during the design process. The relationship building and partnership between myself & my clients is the best part! Their vision plus my expertise allows us to collaborate to create exactly what they are hoping for.
Brian Ogle's Portfolio
I'm committed to listening, collaborating, and working with you to design a custom solution that will optimize any space in your home. Here's a collection of some of my favorite projects to help you get inspired.
California Closets are super beautiful, great looking closets to have in your home. I recommended all my friends to this company, thank you Brian, you are a great worker and the team.

Brian from California Closets was ready for action when he met me and my closet! He was thoughtful in asking questions about what I needed and wanted and continually reworked the design for my new bedroom closets until it was just right. He was my contact person throughout the whole project which made the process super easy to navigate. He was responsive to all my questions. Thank you Brian! I'd also like to add, the closets are beautiful and I can't wait to fill them with clothing, Brian and California Closets come highly recommended.

Great custom installed closets! The designer and the build-team were great! I appreciate their attention to detail and customer service.

I am very impressed with everything! From the initial design with Brian, the great install team with Daniel and Carlos, and the quality of the product. 5 stars for sure. Will definitely recommend!