Discover Vol. 5 of our award-winning Ideas of Order Magazine!
Read More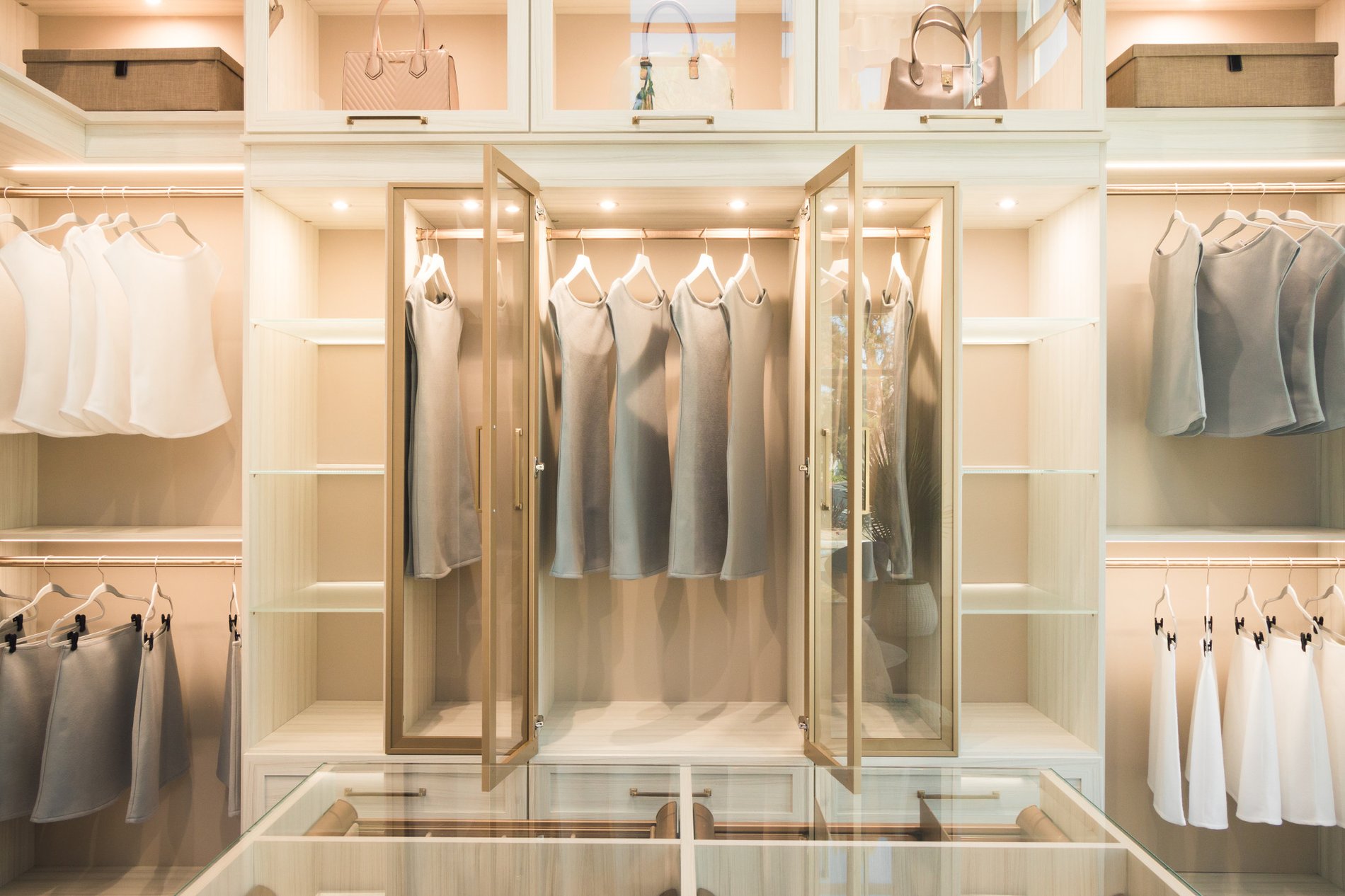 California Closets New York City
With more than 28 years of experience creating innovative designs, California Closets New York is a pioneer in the custom closets, home storage and personalized small space design that is inherent to city living. Serving Manhattan, Queens, Brooklyn, the Bronx, Westchester, the Hudson Valley, Rockland, Orange, Sullivan, and Nassau counties, California Closets New York works to understand your exact needs, style, and budget to create custom storage systems that are both beautiful and functional. From walk in closets and Murphy beds to kitchen pantries, entertainment centers, and home offices, our professional closet designers are experts in the art of home organization. Once you're ready to explore custom design ideas for your space, schedule a complimentary in-home or virtual consultation. Together, we'll collaborate with you on every step of the process and on your schedule. California Closets is distinguished by a legacy of innovation, organizational expertise, quality craftsmanship, and design authority. Our teams of professional design consultants and installers are dedicated to providing an exceptional experience throughout the entire process of creating and installing organizational systems for the whole home.
One​ of the things that added to my great experience was the level​ of service. Our designer Kelly was extremely​ knowledgeable, took the time to explain all options to me and was super clear about the limitations​ of our space. She was really quick to respond​ to all of my follow up questions by email. She even​ made a note in our file for the installer to check​ out a broken drawer from our previous system. The installer Nick was super friendly,​ quick, thorough, and left the place​ nearly impeccable. He also fixed our broken drawer​ from a previous installation. We are super satisfied​ and would recommend both Kelly and Nick to anyone​ without hesitation.

Outstanding in every respect. Jacqueline was just amazingly helpful and so patient through the COVID delays. You can't do better!

Loved having the designer come and give great ideas to maximize our space. The attention to detail is unmatched!

The entire California Closets New York team did a great job especially our designer, Kelly Parham ! She was very efficient, had great suggestions, was very patient when we considered other options/revisions to our custom closet design, and her communication as well as her follow-up were exceptional.

Jose and Edwardo were spectacular, absolutely spectacular. They are such hard workers. They wanted to make completely sure that every tiny single thing was absolutely perfect, and it is. You are so very lucky to have them. The wall unit is beautiful, beautiful, beautiful. The promotional photography cannot begin to do it justice because photography cannot show how substantial it is.

California Closets New York staff were competent, professional, and efficient, from the initial consultation all the way through completion of the project. I'm very happy with the process and, most importantly, with the end result of our walk-in closets.

Our designer was incredibly knowledgeable and understood the best way to make use of our space and incorporated our storage needs perfectly. Our installer was friendly and competent and got the job done quickly without compromising quality. Our experience with California Closets from design to installation was excellent and the final product looks better than we could have ever imagined!

Everything was fantastic from my consultant to the installer to the quality of the product. I had no idea that closets could be so life changing! I feel like I have gained two new rooms. Totally worth the investment.

It was great from the design process through installation. I was always clearly informed of what was going on by my designer who had great ideas for what my closet should look like. And the guys that came to install it were very friendly and extremely neat! They cleaned up everything before they left and my closet was ready to use. I'm extremely happy I chose to use California Closets.

My designer was great! She was super efficient and really listened to what I wanted in each of the five custom closets. In addition, she made great suggestions which worked out perfectly. The installer was on time, worked quickly, and was able to answer all my questions. I have been sharing my experience with friends and family ever since!

This has been one of the very best experiences I have ever had regarding custom cabinetry. Our designer was extremely professional and her attention to detail exceeded anyone else that we have experienced. We have only great things to say about this person and California Closets.

Your designer spent a good deal of time talking to me about my spatial needs and designed a walk-in closet perfect for my requirements. I can't believe how much more space I now have in just one closet. You accommodated me on the installation day and time. Your installer was on time, professional, courteous, and left my apartment spotless.

From the start we always knew exactly what was going to happen and when. The designer worked with us to turn our storage requirements into a closet configuration which we reviewed and approved. Prep and installation folks showed up on time and they were done exactly when they said they would be. This is our third time dealing with California Closets New York in the last 20 years and we have never had a bad experience. 5 stars out of 5.

The designer came to my house to measure the closet and ask what my needs were. She asked about what my CURRENT closet was like and how it could be improved. Then to my utter delight and surprise she actually designed the closet right in front of me in 3D on her laptop and showed me everything from every angle. The custom closet alone makes me look FORWARD to moving in!

From beginning to end there were no unpleasant surprises with California Closets. On time every time. Attentive and talented designers. And the installation crew that puts it all together gets it right the first time, on time.

It was extremely painless. The designer came in and within 40 minutes I had a clear picture of the closets and the costs. They were even able to fast track the manufacture of the custom closet so the entire process was effortless! This is the second time I've used them and I wouldn't hesitate to use them again for other projects.
VISIT A SHOWROOM IN NEW YORK CITY
Visit the Upper East Side or Tribeca showrooms to get an up-close look at California Closets' high-quality systems, unique finishes, and accessories offered. When you are ready to explore custom ideas for your space, schedule a complimentary showroom or in-home consultation.
THE IDEAS OF ORDER PODCAST

Our new podcast with designer and HGTV star Jeremiah Brent features candid conversations on the spaces that shape us.

IDEAS OF ORDER

Discover Vol. 5 of our award-winning magazine and the stories that reflect our deep connection to where we live.
Favorite Local Projects Near New York City
We'll collaborate with you to make every room in your home work better for you. See some of our favorite projects right here in New York City.
5 key points to consider when designing a walk-in closet

Elevate your everyday life with a stylish, beautiful and extremely organized closet.

Creative storage solutions to suit your lifestyle

Our expert designers have put together several options on how to help with your storage needs.

Declutter your life with closet organization

Tips from the team to help clean up your closet for good. It starts with a custom closet system.
Meet Our Designers
The best in New York City
Our expert design consultants will help you create the perfect solution for you.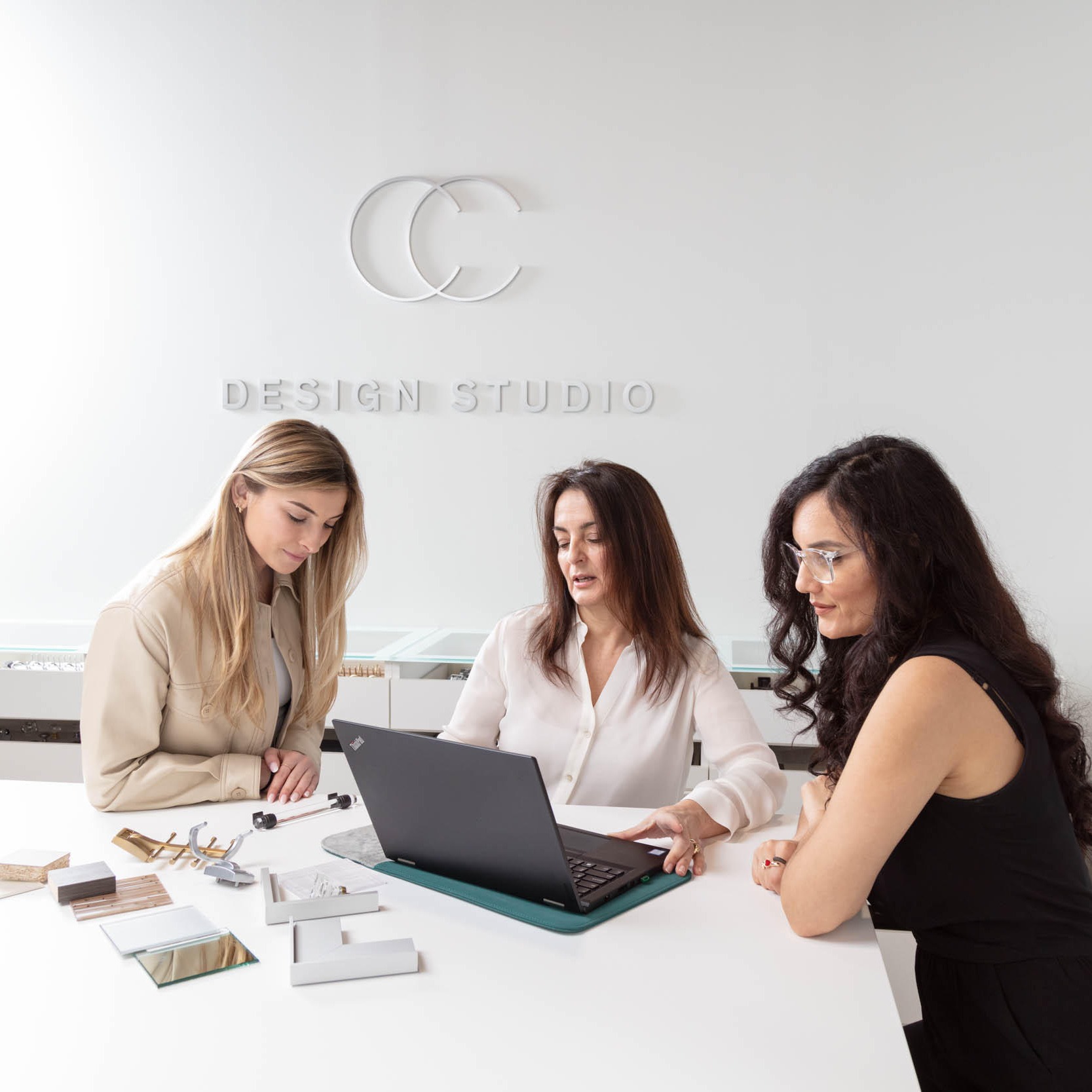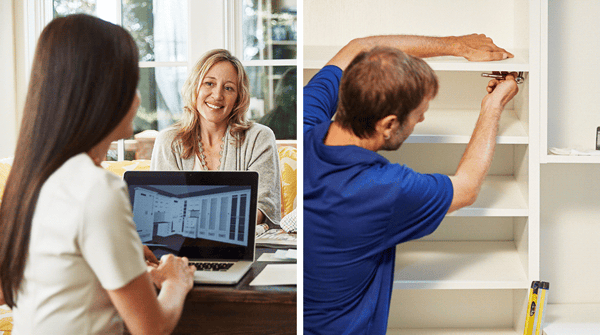 Career Opportunities
Join us in our mission to design better lives through custom storage solutions and organization. At California Closets, Manhattan, New York, we pride ourselves on being an outstanding employer that offers excellent benefits, competitive salaries, and professional development.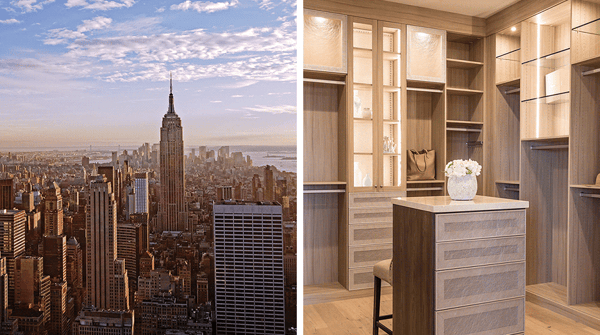 To The Trade
Throughout our more than 40 years as the leader in custom storage, we've worked as a trusted partner on thousands of projects with some of the most talented home professionals. To collaborate on your next project, join our Trade Partnership Program today.