Learn more about our TouchLessService™.
Read More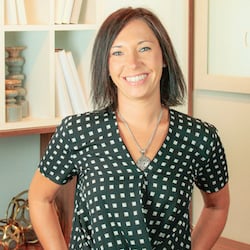 Chelsea Kelly
Design Consultant
I have always had a passion for design and organization since I was young. I am a driven to be innovative, creative and explorative. Every space is different and a new challenge and I find these qualities give me a enlightenment towards the design process. Listening to my clients frustrations, desires and needs and then implementing a design that will be functional and beautiful for them to enjoy is the most important thing I can do as a designer. Seeing the joy my client's experience when the design is complete is the greatest gift and drives me to continue to exceed expectations.
Chelsea Kelly's Portfolio
I'm committed to listening, collaborating, and working with you to design a custom solution that will optimize any space in your home. Here's a collection of some of my favorite projects to help you get inspired.
Chelsea, I love the finished work! You were an awesome help. I am super glad I waited and you were outstanding in making things happen! Thank you very much.

We have found that, if we need a clean-lined, super functional closet or shelving unit, we always find ourselves turning to California Closets and their #1 designer (in our minds), Chelsea Kelly. Can you spend less for a shelving unit elsewhere? Likely. BUt one thing you will not get is the pro team of designers and installer assisting you along the way, making the space you need filled a masterpiece. After our 3rd closet we know for sure that the next 3 projects are going to go to California Closets. Worth every penny.

Chelsea Kelly and Hunter were amazing. CHelsea did an awesome job with the design and took the time to come out during install to see how things were going. Wow! Amazing customer service from this team!

Extremely friendly, very knowledgeable about her job, always made sure my questions were answered. Explained everything so that I would understand it.

Chelsea asked great questions to understand our desires for the project. She was on time and quick to schedule the follow up for our appointment.