Learn more about our TouchLessService™.
Read More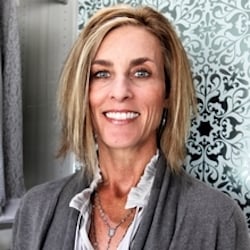 Dana Ledergerber
Design Consultant
Organization can transform your life from chaos to composed. Our credo, Designing Better Lives, defines my objective of improving my client's daily journey by creating spaces that are a joy to be in. My objective is for you to start your day in a beautiful, organized closet or find your keys on the special hook we created for them in your mudroom, with a space for everything, or pull your car out of the perfect toolbox we've turned your garage into. Through collaboration, we will design the perfect space for you. After graduating from design school, I have been fortunate to have worked with many clients, now some of my closest friends, to create spaces that are both functional as well as beautiful. As a realtor, former art teacher, remodeler and designer, I have honed my organizational skills as well as my eye for design. Whether you have a small closet and a hoarders shopping habits or simply need to organize your chaos, I am here to help.
The entire experience was wonderful. Dana was so patient and knowledgeable about the products, dimensions, and what would work best for my home. Her expertise is what convinced us to use California Closets. Now that I have had the systems for a few months, I can't believe I didn't do this sooner. I love my closet and laundry room! Thank you!

Everything was flawless. Dana was very patient with us and extremely considerate and cooperative. The design was amazing. We had to reschedule our install a few times, and that was also accepted without any hurdles. Installation from Carmelo and Benito was fantastic. They were very professional, skilled, and perfectionists and went above and beyond. All in all an extremely pleasant experience.

Service is excellent. Dana did a fabulous job, the design was perfect, always responsive and kept me informed. Couldn't be happier with my experience. This is my 3rd project with California Closets. Cynthia C. Houston, Texas Everyone does such great work! Pedro did an outstanding job installing all our closets and cabinets. Couldn't be happier! Dana is the best!

Dana is the best! She took our dreams and made them a reality. She worked with our budget and wants to make it happen. We couldn't have been more satisfied, we have already referred two additional clients to her.

Dana was very professional and had a warm spirit we are looking forward to doing business with her.