Learn more about our TouchLessService™.
Read More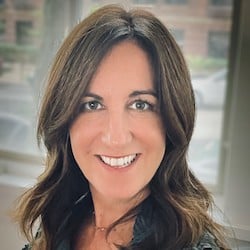 Debra Leb
Sales Lead and Trade Specialist
I feel so fortunate to be able to utilize my skills and expertise in a way that makes a real difference in people's lives. After spending 13 years in the fashion industry working as a Midwest Regional Merchandiser for Donna Karan, TSE Cashmere and Escada I joined the design team at California Closets. Ever since, rather than merchandising clothes in the stores, I have been able to re-create personal space. I truly enjoy being welcomed into a client's home to assess their needs, and to then transform an area that offers a functional storage solution that's also aesthetically pleasing. As a lead veteran designer, I've built-up a business of clients who appreciate my knowledge of design, passion and energy. My greatest complement is when they call me back year after year to design additional spaces or when they refer friends and family for my services. I earned a B.A. degree in Communication Arts from the University of Wisconsin – Madison in 1991. I reside in downtown Chicago in the Fulton River Market area with my husband and young son, and when I'm not designing closets you can find me working out at The East Bank Club or cheering on The Chicago Blackhawks!
Debra Leb's Portfolio
I'm committed to listening, collaborating, and working with you to design a custom solution that will optimize any space in your home. Here's a collection of some of my favorite projects to help you get inspired.
Debra is insanely talented! She understands people's habits, and takes time to get to the core root of a clients frustration. Debra listens intently, obsesses over the smallest details, then takes control with realistic life changing solutions. My clients are SO pleased with their finished closets-not only do they look beautiful but the day to day tasks become more functional- she literally gives people back minutes to their lives!! As a designer I'm proud to partner with such a strong leader and I always try to absorb a little nugget of sound advice from her presentations.

I had an outstanding experience from start to finish with California Closets. Debra Leb has been an absolute pleasure to work with. She has been so helpful and informative about California Closets, and was super patient with me and what felt like a ton of questions. She was able to help me virtually since we were in the middle of Covid, and she knows the product so well, and is so adept at educating me about it, the whole process felt like we were in person, and had known each other for years.

We had a great experience! Debra Leb was fantastic, as well as all the installers. I really had no idea what I wanted & was quickly able to trust Debra. She is clearly an expert on maximizing your space & asking the right questions to fit your needs. Our desk needed to be adjusted & Debra & her team were on it! The installers also had to be creative with our wall-bed & some small shelves. They were able to coordinate with Debra & send another installer to help & the issue was quickly resolved. We are incredibly happy.

I really hadn't ever looked into redesigning closet space prior to this experience and I had no idea how intricate it could get, nor did I have any clue about how many options there were... from everything from sections and drawers and shelves to hanging laundry baskets and so much more. Debra Leb was our Custom Design Specialist and she walked us thru it all.... All the options, all the accessories.... the colors. A truly unique and eye opening experience! California Closets has a solution for all of it. We love our Designer Deb Leb—she was so incredibly sweet and knowledgeable not only with the product and all the options but really with helping us envision the possibilities..... Couldn't be happier with the choices we made.

Debra is an expert in her field, provides insight and listens with equal intensity. A rare quality. Her design and patience are a plus.