Learn more about our TouchLessService™.
Read More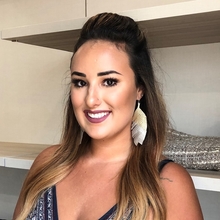 Elizabeth Bellinetti
Senior Design Consultant
I am an experienced Senior Designer with California Closets who understands the magnitude and importance of a well-organized space in your home. Designing better lives is my expertise and my passion. Every space is different, every family is different, every need is different. I possess the ability to learn about your space, your family and your needs and use that knowledge to create a design solution that will make a world of a difference in your everyday life. I am here to listen to you, to respect you and to help you. Nothing makes me happier than seeing the joy on my clients faces when they see what I can do within their budget to enhance their quality of life. As a mother of two little girls, a spouse, a sister, an aunt and friend to many- I am very well rounded and equipped to work with different types of lifestyles and the needs of all kinds of individuals. My favorite part about working at California Closets is that I get to meet so many incredible people on a daily basis who each have their own storage problems that I get to solve. Our 3D CAD software and vast assortment of materials excite me every day and I love sharing this with my customers. I look forward to working with you!
Elizabeth Bellinetti's Portfolio
I'm committed to listening, collaborating, and working with you to design a custom solution that will optimize any space in your home. Here's a collection of some of my favorite projects to help you get inspired.
The entire experience was great! Our design consultant Elizabeth was exceptional! Her knowledge of spacial design and the material/color options helped guide us in our decision-making. She created a beautiful built-in to suit our needs as well as fit our budget.

Elizabeth listened to us and incorporated our feedback into the design. She was also very professional and clearly very experienced in presenting other ideas and options. Lastly, she followed up with us the next day with an alternate design for us to consider showing this not a onetime and done meeting. We have been very happy so far, but still at the decision stage, and Elizabeth is making the decision easier.

Our designer implemented a plan with revisions that we wanted quickly and efficiently, very responsive, and she went beyond by emailing photos off the materials and hardware. The software used was very helpful as brought the layouts to life.

Elizabeth is wonderful she gave us a design that is perfect for us. She listened to our needs and created a design and provided options that makes the most of the space we have. The virtual design meeting worked great and being able to see the design and make changes as we talked through it was so efficient.

I am thrilled with Elizabeth. She totally understands my needs and is a gifted designer. Customer service is A+++.

Our design associate Elizabeth has been so accommodating and wonderful!! She's answered all my questions and then some. Really put together an awesome design for us to work with as well.

Very friendly and personable experience. The price is higher than a competitors quote for a similar product, but we liked this customer experience better. Customer service was literally the reason for the win in this instance.The entire experience was great. From the initial meeting with our designer, to the phone calls waiting for the install, to the installation team, and the follow up call when we finished. It was a very very good experience.