Learn more about our TouchLessService™.
Read More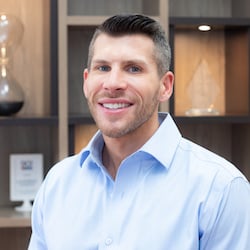 Jacob Tortorella
Design Consultant
As I recall some of my earliest childhood memories, I can credit my mom for instilling the importance of being highly organized. Now as an adult I fully understand the impact being disorganized can have on the everyday flow of life. My day-to-day motto is "everything has a number, and every number has a place." I moved to Atlanta three years ago from Austin, TX and upon moving here my best college girlfriend happened to be starting up a professional closet organizing business and was in need of an extra set of hands (and eyes) tackling the jobs that were coming her way. Up until this point I had been working in the hotel/hospitality industry and although I loved being able to work with people and create and share memorable moments , I knew I ultimately wanted to do something that allowed me to express my creative side a bit more. After about a year of working with my friend doing organizing jobs, I recognized that I truly loved the process of being able to collaborate and create beautiful functional residential and commercial spaces for clients. This of course led me to the realization that I have always loved designing and it was certainly something I could do as a career, and feel incredibly fulfilled. I truly have an eye for detail that flows naturally from within. When I am designing a space for a client, I take the approach of making it equal parts beautiful and functional. I find myself constantly day dreaming up design ideas and I am super excited to be able to collaborate with clients and bring it all to life! When I am not designing my clients dream closets, I enjoy spending time with my two pups, working on art projects, or hitting the gym.
My experience has been amazing! Jacob seemed to be able to read my mind and it felt way to easy. I am very excited for the process to start. I didn't even waste time consulting with other companies.

Working with Jacob was a pleasure.

Very prompt, organized and wonderful suggestions. Jacob was awesome!

Jacob is the best! He was thorough, created my design EXACTLY how I imagined and he has such a positive attitude! Would recommend to anyone!

This experience was nothing short of perfection from day 1. From scheduling, to meeting my incredible designer Jacob, to my installer - the process was seamless. I was so worried that this would be too expensive for my project, but Jacob was able to help me design something beautiful well within my budget and went over and beyond. There would be no reason to look elsewhere considering the reputable company, quality product, and can't believe their warranty - thank you a million!