Learn more about our TouchLessService™.
Read More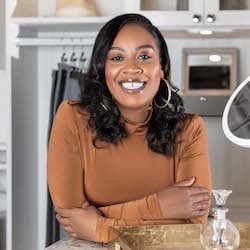 Johnna Earl
Design Consultant
I love the personal relationships that are built with my clients entrusting me to come into their home and create a home for their wardrobe. An organized closet makes getting ready everyday worth it. Collaborating with my client's listening to their needs then wants, allows me to maximize their space and together design a space they will love while keeping them within their budget.
Johnna Earl's Portfolio
I'm committed to listening, collaborating, and working with you to design a custom solution that will optimize any space in your home. Here's a collection of some of my favorite projects to help you get inspired.
The closet was built to my specification. My contact Johnna involved me in the design of the closet. I am happy with the way the closet was installed. The closet was built very well and meets my needs.

California Closets in Alpharetta is absolutely amazing. Johnna was a wonderful consultant for us and made this very easy to do. We've been doing work in our home for a few years now and Johnna and the California Closets team are in my top two favorite companies that I've worked with so far. The work turned out so beautifully and they worked so efficiently and fast. They also valued my time and theirs by starting and completing the project we had in the time they committed. I will be using them again for closet and pantry design projects in our home!