Learn more about our TouchLessService™.
Read More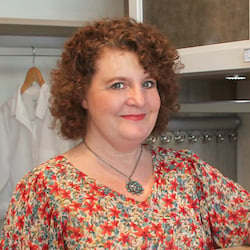 Katharine Mills-Tierney
Design Consultant & Interior Designer
I've been transforming dysfunctional spaces into beautiful and functional places with California Closets since 2008. I love challenging projects and take pride in "that moment" when the right design falls into place. Seeing my clients enjoy the space we've created together brings me joy and drives me to continue to exceed clients' expectations. Although I have experience designing almost every space, I really enjoy working on offices and wall units. I am a two-time Top 10 Design Of The Year winner and worked on an office space with Jeremiah Brent!
Katharine Mills-Tierney's Portfolio
I'm committed to listening, collaborating, and working with you to design a custom solution that will optimize any space in your home. Here's a collection of some of my favorite projects to help you get inspired.