Learn more about our TouchLessService™.
Read More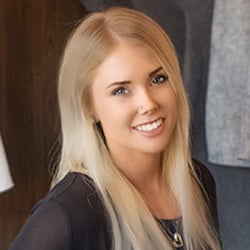 Katie Bryant
Design Consultant
"Design is a balance between form & function…it involves both" My passion for design begins with my love for problem solving. It's an incredible feeling to take a space and transform it into this lasting experience of beauty and function. I graduated from Arizona State University with a BA in design. After spending time in web design and custom aircraft interiors, I found my match with the industry leader of form & function, California Closets. To collaborate with my clients on a timeless solution for their homes is such an awarding and inspiring feeling. Together let's build an experience you and your family love, and never want to leave.
Katie Bryant's Portfolio
I'm committed to listening, collaborating, and working with you to design a custom solution that will optimize any space in your home. Here's a collection of some of my favorite projects to help you get inspired.