Learn more about our TouchLessService™.
Read More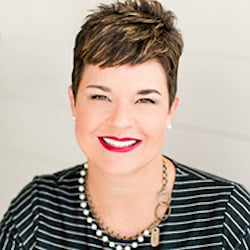 Katie Gerst
Senior Design Consultant
2015 'Top Ten Design Award' Recipient 2017 & 2016' Top Ten Design Award' Recipient I cannot express the incredible joy I feel when I hear a client say 'I am so excited to get my closet done' or 'I can't wait for my friends to see this!' I know it's just a closet, and there are bigger issues in this world, but for my clients, what I've designed has solved a problem for them, and that's what I've always been – a problem solver & and I couldn't be happier than when I'm making someone else's life better! I've had the privilege of working in this industry since 2001, and I've seen many changes, but one thing has remained the same: California Closets' commitment to quality, innovative design, and dedication to customer delight. As the leader in custom storage solutions since their beginning over 30 years, California Closets is the premier closet company in Atlanta, the United States, and internationally, and I couldn't imagine working anywhere else!
Katie Gerst's Portfolio
I'm committed to listening, collaborating, and working with you to design a custom solution that will optimize any space in your home. Here's a collection of some of my favorite projects to help you get inspired.
I haven't been this excited over anything lately until y'all did a makeover on my pantry! It's hard to believe it's the same pantry.. I even have empty shelves and room to spare. I love it! Thanks again for a great job.

Wonderful experience. Katie Gerst is professional, excellent at providing creative solutions and follow through!

I love my new cabinet, Katie my sales person was awesome and the installer did a great job.

It was perfect, Katie Gerst did an amazing job. She intuitively knows exactly how to design spaces to suit a client's needs. She also went above and beyond with creative touches that tied our space to the decor of our master suite while being conscious of our budget. The installers were detailed, thoughtful, and skilled as well. We are so happy with our closets. Thank you!

We loved working with Katie and the way our closet looks.

From my very first meeting with Katie, who designed my closet, through completed installation, everything was well planned and I was always informed of the schedule. Thank you for excellent service.

Katie was very knowledgeable and helped us lay out 3 closets. The guys that came to install were nice and professional. All around a great experience. We will call when we are ready for the other 2 closets.,

We had a wonderful experience from the beginning to the end. Katie was a pleasure to work with and had great ideas. The two gentlemen that installed our closets were very nice and did a great job. Everything was left nice and clean when they left. We would definitely recommend California Closets and will likely use your company again in the future. Thanks!

Easily the most pleasant purchase and installation I have experienced during a long renovation. I recommend California Closets without hesitation.

I was extremely pleased with CA Closets. Katie was professional, flexible and sweet. I adore my new closets! They have made me happy every day!

Everything was wonderful!! Katie was awesome to work with and very patient with me!! The guys that put the closest together were great as well. Quick, professional and helped with my questions.

From consultation through installation, the experience was terrific. I have booked another consultation to deal with the worst closet in our house. I have every confidence that California Closets will solve this problem for us, too.

Katie Gerst was an excellent resource for our master closet project. Following a significant closet collapse which gave us the opportunity to seek a custom solution, Katie worked quickly and efficiently to help solve our closet dilemma while maintaining a reasonable budget. Great service. Installation was equally professional and executed quickly. Love our new closet!

We are extremely pleased with the product itself, but the design that Katie Gerst (Designer) suggested for the space was what sold us on using California Closets. We were very impressed with her knowledge and guidance. The overall finished product is fantastic!