Learn more about our TouchLessService™.
Read More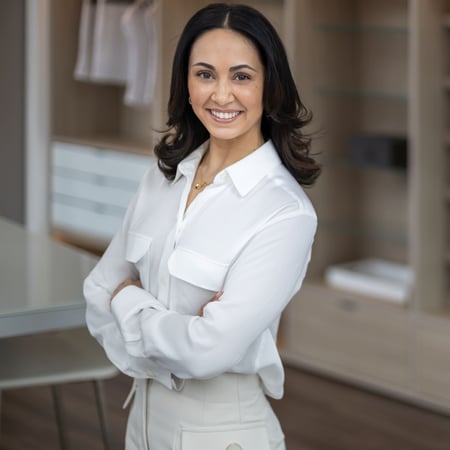 Kim Van Woesik
Design Consultant
I believe that collaboration is key! While there are a thousand ways to design a space, what excites me most about bringing our clients' visions to life, is collaborating to design out a space that not only works for their lifestyle, but actually enhances their quality of life. I create designs that are efficient, organized, and of course, beautiful. From the tiny closet you find yourself wondering what you'll ever be able to fit in there, to the grandiose dressing rooms, there is never a space too small nor too large that can't be utilized more effectively. I aim for function first, then love to layer on more glam/high-end design elements like our integrated lighting system, glass drawer and door fronts, and making sure all accessories finally have a place with our jewelry, sunglasses, and tie/belt drawers. Each time a client opens a door or walks into their space, I want them to feel at ease, organized, and so happy that they entrusted me to make their dreams a reality.
Kim Van Woesik's Portfolio
I'm committed to listening, collaborating, and working with you to design a custom solution that will optimize any space in your home. Here's a collection of some of my favorite projects to help you get inspired.
Loved the final results of my California Closet. My consultant Kim Van Woesik was amazing. She was so thorough and detail oriented. She took her time designing my 3 closets and make the best use of the space efficiently. I was able to get an earlier install then originally promised which was a nice surprise. When the technicians came to build the closets they were quiet, tidy, and quick. Couldn't be happier with the results as well as the quality of the product!

California Closets makes installing closets easy. Kim came to our home, took measurements, and in an instant their software was able to show us options and designs to consider with pricing. A few signatures later and we were ready to go. The installers who came were professional and did their work quickly. You might be able to save a few bucks with other solutions, but there's a definite reason why people love California Closets, why we've now had California Closets put in our last two homes, and why I think you get more value for this service.

When looking into different options to redo my bedroom closet, I was hesitant to choose California Closets because it was more expensive than the alternatives, but I cannot stress how my new closet was worth EVERY PENNY. I was so lucky to work with Kim Van Woesik. I was going in thinking that I would need to compromise on what I wanted because the designer couldn't possibly fit everything into such a small space. I was blown away by Kim's creativity that she not only put in everything that I wanted, but was even able to give me so many options to do so. She was endlessly kind and patient with me as I went back and forth with all the possibilities. I cannot wait to work with Kim again on another closet in my apartment and I would recommend her to anyone looking to transform their closet into their dream space!

We worked with Kim Van Woesik - good ideas, really responsive, courteous and professional. After working with her for a while and coming up with plans, we considered having the work done by our own contractor. After weighing the differences, we decided that California Closets while not inexpensive, was a better value. We called Kim months later to revive the plans and she didn't miss a beat. We had five closets done and now live in a well-designed, tight ship.