Learn more about our TouchLessService™.
Read More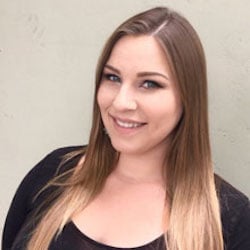 Lindsey Hanselman
Design Consultant
I have been working for California Closets for 2 years designing a variety of projects from simple reach-in closet, large Walk-In closets, Garage Storage and complex media centers. Each project is a blank canvas, and my collaboration with clients brings their visions to life. Focused listening to understand my client's needs and preferences is one of the most important aspects of being a design consultant, and that skill enables me to craft brilliant solution for almost any space. My favorite aspect about working for California Closets is seeing happy clients in newly installed, beautiful projects.
Lindsey Hanselman's Portfolio
I'm committed to listening, collaborating, and working with you to design a custom solution that will optimize any space in your home. Here's a collection of some of my favorite projects to help you get inspired.
California Closests has done two different jobs for me - 1.) home office and 2.) entertainment center. Both experiences have been flawless! Lindsey is super great to work with because she listens extremely well and works with you until your 100% happy with the design. The installation is also one of the best things about working with California Closests because they get the job done right! There's no surprises on the install day and it's done exactly in the timeframe given. I only wish to do every room with California Closests!

he whole experience was great. From the Design Consultant to the Tech that came over for the installment. What a great late Christmas gift to my self. Thank you, it was worth three years of saving. I've already started bragging about California Closets. And people came over to look at your craftsmanship. Every body just been amazed. Great job, looking for our to next project.

Lindsey was wonderful to work with and was incredibly helpful throughout the process. We are expecting a little boy in March and as a first time mom, I had no idea what kind of closet we might need. Lindsey (a mom herself) really helped advise us on the best storage for a family and she couldn't have been more correct. We were considering a few different closet options but we chose California Closets because of our experience with her and how much attention to detail and thorough communication there was throughout the process. We are hoping to save up enough to do our master eventually and we will definitely want to work with CC and Lindsey again! Thank you!

From start to finish this has been a wonderful experience. Working with Lindsey Hanselman to design our office was seamless and easy. She listened to our questions and concerns and was able to come up with great solutions. The day of installation could not have gone smoother with our amazing installers Eric Nelson and James Kempton. They are artists and did the install to perfection not to mentioning cleaning up their mess upon completion. I would highly recommend California Closets and will use them again as the need arises.

First my design consultation was great. It wasn't high pressured and Lindsey really took her time to make sure we knew all of our options. We were also impressed with her knowledge of design and layout so that our needs for a practical closet could be met. Lindsey was very patient with the changes we made following our appointment too. We were also really impressed that she came by the project during installation to make sure everything was as expected. Awesome service! As far as the actual installation goes, we were really happy. We can't say enough about our installer (and Asst) and his process. They were professional, punctual and very respectful to the house as a whole (drop rags, cleaned up after themselves, etc). Having built our previous home from the ground up before moving to Brentwood and from working with spec builders in my career , I have had countless interactions with subcontractors and skilled laborers. I feel fortunate to have chosen California Closets with the installers assigned to me. I could absolutely tell they took their time and did not take any shortcuts, which is really important to us. Also, when anything came up during the install, our installer always asked me my preference of what WE preferred rather than what may have been faster or easier for him. I really can't say enough about the work done.