Learn more about our TouchLessService™.
Read More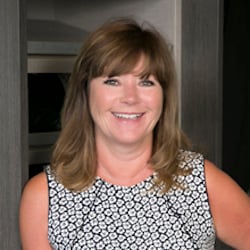 Lynn Esola
Design Consultant
Years ago while acting as owner-builder with my husband on our complete home remodel I was introduced to California Closets by our architect. From that day forward I was hooked. For the past six years I have been an award winning designer with California Closets and look forward to turning spaces in your home, which may seem like chaos–into a serene and beautiful space. Yes it is possible! My focus is to make you feel comfortable and to answer all questions that you have about your specific situations. My goal is to simplify your life. I will spend time to ensure superior designs, client services, and excellence. What may appear to be a daunting project for you, will be shifted to me and the California Closets team. The joy and excitement in my customer's voice after their installation is complete, is very rewarding. When they refer their friends and family, then I know that I have really made a difference in their lives. This is the California Closets experience.
Lynn Esola's Portfolio
I'm committed to listening, collaborating, and working with you to design a custom solution that will optimize any space in your home. Here's a collection of some of my favorite projects to help you get inspired.