Learn more about our TouchLessService™.
Read More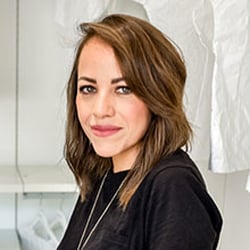 Mariana Rivera
Design Consultant | Project Manager
Design is a passion that runs in my family. My mother is a successful interior designer so I grew up surrounded by the love of the industry. Her passion for creating beautiful and eclectic spaces greatly influenced my childhood. This developed my appreciation for design and a good eye for fashion. I started my career in the fashion industry as a merchandiser for local boutiques and retail chains. After graduating from college I stayed in the fashion world and slowly began my career in interior design working for my mother's design firm. Closets soon came into the mix when I took my fashion experience and began consulting as a personal wardrobe stylist and closet organizer. Soon I found great accomplishment in this little niche of creativity that encompasses everything I love closets, fashion and design! So California Closets was a natural transition in my career and has been immensely rewarding. I love the whole process of transforming a space and making it not only beautiful but functional. Collaborating with clients and making their vision come to life is so gratifying. I believe your home is your sanctuary, and want to help you design a space that not only reflects your style but works for your everyday life.
Mariana Rivera's Portfolio
I'm committed to listening, collaborating, and working with you to design a custom solution that will optimize any space in your home. Here's a collection of some of my favorite projects to help you get inspired.
Absolutely amazing! Mariana possesses impeccable expertise and customer service leadership! Her installer, Michael, was talented, friendly, and beyond reproach.