Learn more about our TouchLessService™.
Read More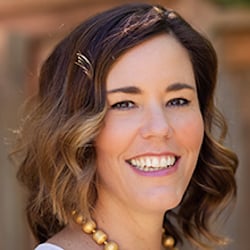 Mary Gelwick
Design Consultant
I have been living my dream of decorating, designing, and offering color consultations for over 10 years, all while raising a family. I am a passionate, customer centric designer who is dedicated to making life more beautiful through designing better lives and creating an enjoyable experience for all. It is a joy to engage with people who have different stories to tell and needs to be met. Having the aptitude to dig deep in order to provide creative solutions that meet clients' wishes is a gift that I am forever grateful for. Working with California Closets has made it possible for me to connect with the people of Colorado as we come together to create stunning spaces. To offer the exclusive, quality products that we do is something to be proud of as we maintain our reputation of being the best in the business for 40 years and counting. "If you invest in beauty, it will follow you all the days of your life." – Frank Lloyd Wright "Opening up your closet should be like arriving at a really good party where everyone you see is someone you like." – Author unknown
Mary Gelwick's Portfolio
I'm committed to listening, collaborating, and working with you to design a custom solution that will optimize any space in your home. Here's a collection of some of my favorite projects to help you get inspired.
It was a nice experience; no worries, and that's what I like. I was nicely taken care of by Mary Gelwick whom is a very delightful person and the two wonderful guys who completed the job with outstanding work. I'm happy I choose California Closets and it is nice to know that they do more than closets.

Both Mary and Steve met every expectation we had and so did your product! We're 18 year customers.

From the first design meeting to installation, the whole process was on a professional level. If I had any questions, Mary answered in a very timely manner. The installation guys were fast and cleaned up probably better than I would. I was able to start hanging my clothes or putting them in the drawers right away. We are very happy with our new closet.