Learn more about our TouchLessService™.
Read More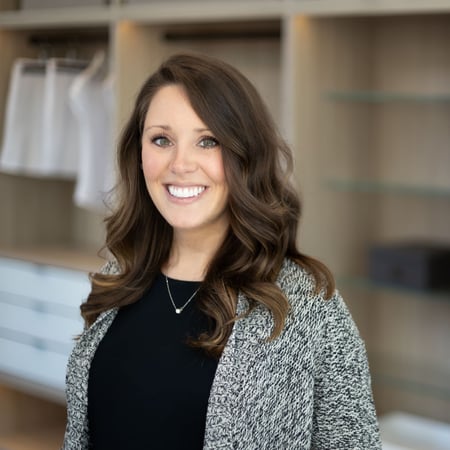 Megan Garcia
Sales Manager & Design Consultant
With over 4 years of closet design experience and over 12 years of design experience in general, it has been my honor to help create better spaces and a better day-to-day life for my clients. The ability to customize each person's home to the way that they live is absolutely the highlight of my job. In New York City having a space that you love and that functions for you specifically, is vital. It can truly change the way that you operate each day. My favorite type of spaces are the true challenges – the closet where you have to play a bit of Tetris to fit everything you need, or the entertainment center where you need to hide the pesky printer or safe, out of sight. Listening to the client's needs and being able to tailor a space is my passion. Designs that can stand the test of time, while adapting for your needs for many years are my forte. I look forward to helping you!
Megan Garcia's Portfolio
I'm committed to listening, collaborating, and working with you to design a custom solution that will optimize any space in your home. Here's a collection of some of my favorite projects to help you get inspired.
We had an amazing experience with Megan Garcia at California Closets. She helped us design a custom murphy bed wall unit with book shelves, side cabinets and additional storage. It is perfection. Megan was incredible to work with, answered my millions of follow up questions, checked in with me on install day and even post install. I would happily recommend her to anyone. The installers were also professional and knowledgeable. I would not hesitate to go back to Megan at CC again for anything.

I needed two closets redesigned to maximize their storage space, and one wall unit built into a very awkward nook in my bathroom. I worked with Megan Garcia. She came over, asked about my storage needs and took measurements. She was able to design the new spaces and show me materials all in one appointment. They also uninstalled and removed the existing closet materials! It was super efficient, and I'm thrilled with the results. I don't even have enough stuff to put in all of the new storage space that I have, which is a situation that is normally impossible to conceive of when you are living in NYC. I would absolutely work with Megan and California Closets again.

I had the best experience with Megan Garcia, my sales manager and design consultant. She did an amazing job maximizing the closet space in my NYC apartment. Couldn't recommend her more highly!

Very professional, helpful, and great job. Always arrived on time to meetings and answered questions promptly. Finished the job as promised, and on time. Megan Garcia was great!