Discover Vol. 5 of our award-winning Ideas of Order Magazine!
Read More
California Closets Northern New Jersey
Serving New Jersey's northern counties, including Bergen, Morris, Warren, Sussex, Passaic, Essex, Hunterdon, Hudson, Union, Somerset and a portion of Middlesex, as well as Pike, Northampton, and Monroe counties in Pennsylvania, California Closets Northern New Jersey works to understand your exact needs, style, and budget to create custom storage systems that are both beautiful and functional. From walk in closets and murphy beds to custom wardrobes, home offices, and kitchen pantries, our professional closet designers are experts in the art of custom home organization. Once you're ready to explore custom design ideas for your space, schedule a complimentary in-home or virtual consultation. Together, we'll collaborate with you on every step of the process and on your schedule. California Closets is distinguished by a legacy of innovation, organizational expertise, quality craftsmanship, and design authority. Our teams of professional design consultants and installers are dedicated to providing an exceptional experience throughout the entire process of creating and installing organizational systems for the whole home. Find us in the Northern New Jersey area and surrounding locations near you.
From start to finish, California Closets is an exceptional company. The initial consultation was a no-pressure visit where I truly felt heard and understood. The installation, customer service, and follow-up were friendly and professional. I highly recommend California Closets for their service, quality, and overall enjoyable experience.

Great overall. My design consultant was very patient with my attention to minutiae and designing and re-designing the closets. She had great ideas.

I really love the way my closet looked after it was done by the experts at California Closets. The service was prompt and efficient. I've told everyone I know and carry the pictures on my phone to show my new closet. I smile every time I step in it :).

I love how the inventory of clothes/shoes are evaluated in order to meet my needs when my closet was being designed. I LOVE my closets and it made a huge difference. Everything has a home in our closet now thanks to California Closets.

Total perfection. From design with the consultant, calls to the office, and the icing on the cake was the installer who was so respectful to our new home, with the care he took to cover all floors and leave closets so clean and shiny. This is our 3rd home with California Closets and we love them. Just the best.

From the beginning of the process to the end, we were always consulted and made aware of what was going on and our input was important. The saleswoman worked closely with us and redid the design until we were comfortable with it. The workers came early and completed the job in a very satisfactory way. They cleaned up and left us very satisfied with their overall work. Everyone we dealt with was very personable and professional.

All representatives of California Closets were very professional and courteous. They listened to all my needs and requests and worked accordingly. The workmanship and the quality of the products was excellent. We are completely satisfied.

It took a little less than 2 hours for the installation. The workman was very efficient and neat. The closets are exactly the way they were presented to me and serve me well. I have shown them to a few neighbors and they seem very interested. Thank you very much.

Every single person involved has been tremendously helpful, expeditious, and professional. California Closets is by far the best in the business — exemplary for integrity, honesty, and customer service!!!

I have been a customer for a few years since 2004. I love the quality and professionalism. Also the salesperson was great and very helpful and honest in ways to accommodate and give ideas. I would highly recommend to all my friends.

The whole experience with California Closets is just tremendous. From the professionalism of the first meeting, to enjoying your products for many years. I love the whole process. Neat, clean, quick, and beautiful. I just can not say enough good things about the company and the products!!!

You were very quick to address any of my concerns and I really appreciated that! Our new closet was beautifully designed, incorporating all the elements that my husband and had picked out. It all was cleverly arranged in the space we have. Thank you for our fantastic closet!
VISIT A SHOWROOM IN NORTHERN NEW JERSEY
Visit the Bernardsville or Fairfield showrooms to get an up-close look at California Closet's high-quality systems, unique finishes, and accessories offered. When you are ready to explore custom ideas for your space, schedule a complimentary showroom or in-home consultation.
THE IDEAS OF ORDER PODCAST

Our new podcast with designer and HGTV star Jeremiah Brent features candid conversations on the spaces that shape us.

IDEAS OF ORDER

Discover Vol. 5 of our award-winning magazine and the stories that reflect our deep connection to where we live.
Favorite Local Projects Near Northern New Jersey
We'll collaborate with you to make every room in your home work better for you. See some of our favorite projects right here in Northern New Jersey.
Maximize your space with a murphy bed

The Murphy bed allows you to maximize your floor space and turn your spare room into a multi-purpose room.

Clean out clutter from your home

Learn how to eliminate clutter from your home and organize your items for good with custom storage solutions.

Clean out your closet space

If you're feeling overwhelmed by your closet, let our experts assist with tips for purging your belongings.
Meet Our Designers
The best in Nothern New Jersey
From an initial conversation through design and installation, our expert design consultants will guide you through the California Closets process and collaborate with you every step of the way. They are committed to serving you and believe that exceptional design can help us all live more organized and happy lives.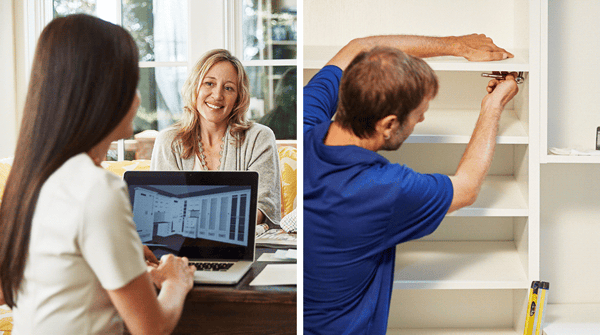 Career Opportunities
Join us in our mission to design better lives through custom storage solutions and organization. At California Closets, Northern NJ, New Jersey, we pride ourselves on being an outstanding employer that offers excellent benefits, competitive salaries, and professional development.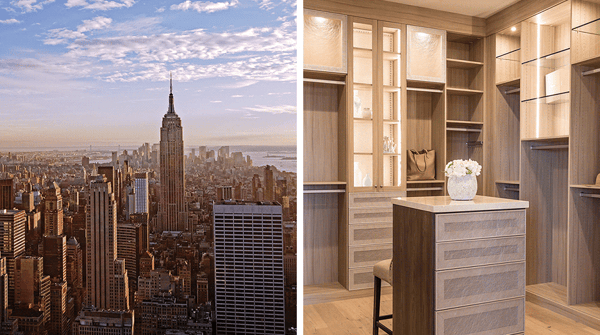 To The Trade
Throughout our more than 40 years as the leader in custom storage, we've worked as a trusted partner on thousands of projects with some of the most talented home professionals. To collaborate on your next project, join our Trade Partnership Program today.