Learn more about our TouchLessService™.
Read More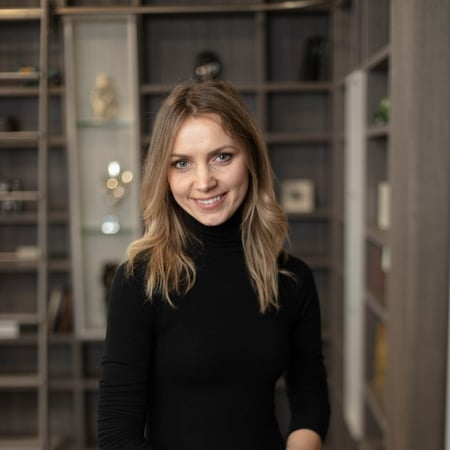 Tanya Medvedieva
Designer
My name is Tanya and I am an architect with a passion for interior design. I love space planning, especially designing in challenging spaces. I am originally from Ukraine and have enjoyed discovering the diversity the US has to offer (in all aspects). My favorite part of being a California Closets designer is using my expertise to bring my client's vision to life. I love to see the transformation of the areas I design after installation. I take pride in helping people achieve organization and simplicity in their lives.
The designer Tanya and the Installers we're all extremely good - I wish all companies would be as good as these people.

Had been putting off getting the small bathroom closet finished. Tanya designed the space and the installation was really quick. Happy with the quality. Worth the cost.

I have just had a second California Closet put in my house. Once again, I am so pleased with the outcome. Just perfect! Tanya has been such a pleasure to work with. She is very professional and patient. She has good ideas and is quick with any follow-up questions. We made the perfect front hall closet to fit all of our coats, shoes, and boots! The young man who did the installation was on time and prepared. He came with everything he needed ( drop cloths, a vacuum, cleaning supplies and of course the closet materials) he worked quietly and quickly and left the area spotless. The installers have been some of the best workers ever in my house. I highly recommend this company.

My designer Tanya Medvedieva is a highly skilled design consultant who coordinated all steps of the design and installation process with extreme proficiency and grace. She has a great personality and is very passionate about her work which instilled confidence in me that my vision would come to fruition. Her ability to communicate and check in with me during the design process and installation process was very reassuring. She did all the necessary follow up, video conferences, phone calls and emails communications needed to keep me updated and informed every step of the way. Tanya is very passionate about her work and it shows in the way she carried herself every step of the way. I am extremely pleased with the results and highly recommend Tanya for your design vision if you are lucky enough to have her assigned. My California Closets experience was amazing. I am very thankful and wanted to take a few moments to convey this in my review.

Very pleased with everything! Tanya was very patient and knowledgeable when designing my bookcase. The man who did the installation was excellent! Immaculate and worked quietly and independently.

Great communication with the designer, easy to make payments, and the install team worked quickly and professionally.