Discover Vol. 5 of our award-winning Ideas of Order Magazine!
Read More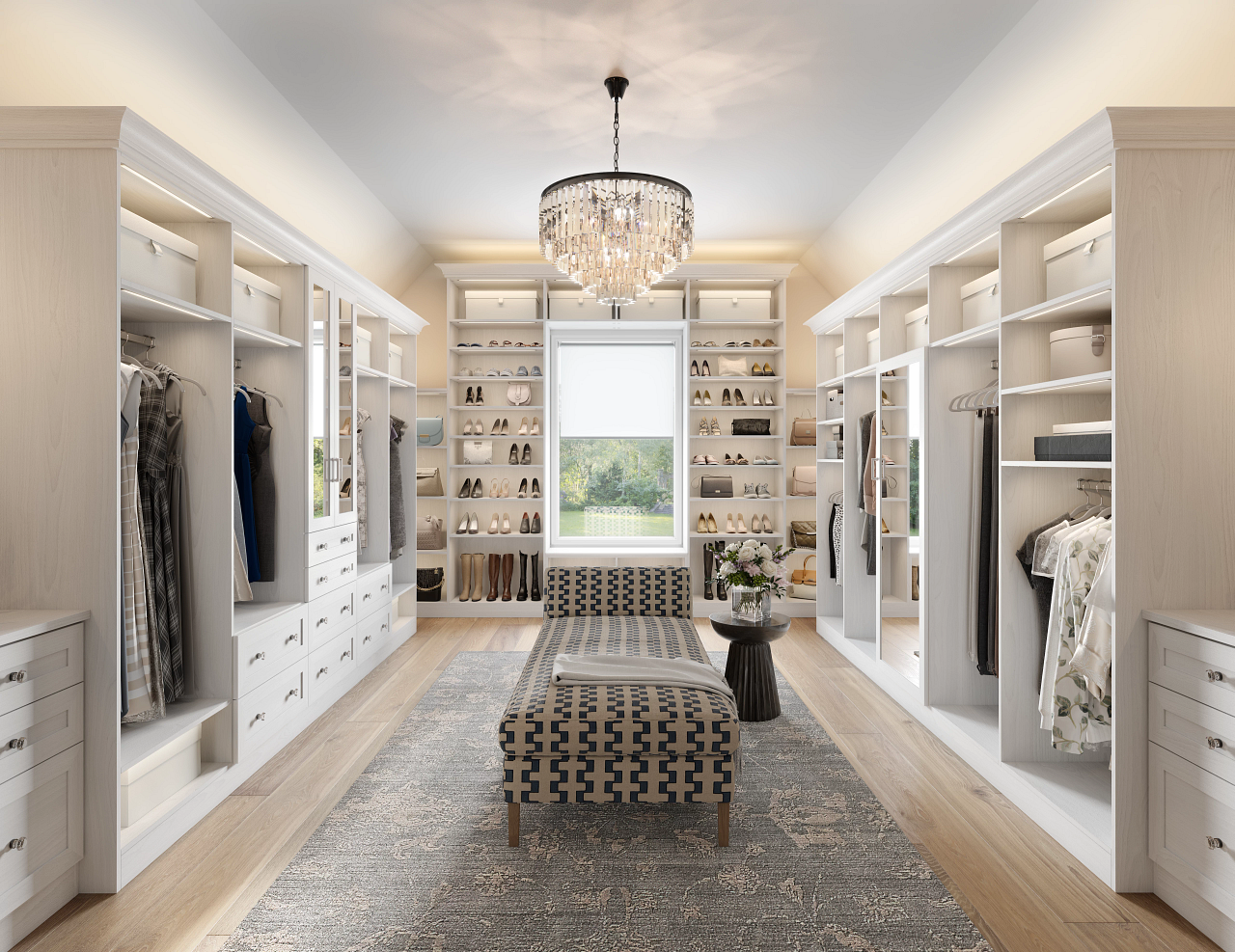 California Closets Connecticut
Located in Norwalk, and serving Fairfield, New Haven, Middlesex, and New London counties, California Closets Connecticut works to understand your exact needs, style, and budget to create custom storage systems that are both beautiful and functional. From walk-in closets and Murphy beds to kitchen pantries, entertainment centers, and home offices, our professional closet designers are experts in the art of home organization. Once you're ready to explore custom design ideas for your space, schedule a complimentary design consultation. Together, we'll collaborate with you on every step of the process and on your schedule California Closets is distinguished by a legacy of innovation, organizational expertise, quality craftsmanship, and design authority. Our teams of professional design consultants and installers are dedicated to providing an exceptional experience throughout the entire process of creating and installing organizational systems for the whole home. Serving Norwalk, Connecticut and surrounding locations near you.
I had the best experience with my designer and the whole team behind California Closets. The process was thorough and professional and any little issue was handled efficiently. I felt confident through the entire process that I would be happy with the results, and I am.

California Closets recently did a full master closet and it turned out perfect. Everything from start to finish was professional and everything turned out exactly how we pictured it. I would highly recommend them.

Everything about my experience was great! Cheryl worked with me on the design to stay within a budget I was comfortable with and my installer was prompt and very nice. I love my new closet!

California Closets Norwalk did a great job! We liked the work on our daughter's closet so much that we redid our master bedroom closets as well. Professional, great looking, great value.

We worked with Linda Cronin. She was very knowledgeable and professional. She came to our house and helped us brainstorm a design that totally fit our needs. The installation was a breeze, they were even able to come earlier than the original install date. We actually reached out again to Linda and had her come back and design a resolution in another bedroom in our home. We don't have walk-ins, so this was absolutely needed and is fabulous! The cost of California Closets was surprisingly lower than I thought. They came in lower than another company and totally met my expectations. Linda was the best!

I have just had a second California Closets put in my house. Once again, I am so pleased with the outcome. Just perfect! Tanya has been such a pleasure to work with. She is very professional and patient. She has good ideas and is quick with any follow-up questions. We made the perfect front hall closet to fit all of our coats, shoes, and boots! The young man who did the installation was on time and prepared. He came with everything he needed ( drop cloths, a vacuum, cleaning supplies and of course the closet materials) he worked quietly and quickly and left the area spotless. The installers have been some of the best workers ever in my house. I highly recommend this company.

Our experience with California Closets was easy and painless. From design specialist Uma Bode to the installation, people were efficient, professional, and a pleasure to deal with. We are very happy with our selection.

I worked with Uma Bode and California Closets to design my walk-in closet. Uma has great design instincts. She developed a great design for my closet, making very helpful suggestions while trying to get to understand my needs and preferences. It was wonderful to see it all come together. I would work with Uma again without reservation.

All I can say is that I went from HATING my closet to absolutely LOVING it! The design is smart, the quality of the cabinetry rich and beautiful and our installation team was so sweet and fabulous! Our designer, Stacie, was totally "on it!" I am so happy we trusted California Closets!!!

Our process was even better than I had hoped. Pam helped us to design 3 beautiful closets that fit within our budget, and explained all of the different pricing levels so that we were able to pick and choose features that worked for us. We had been wasting a ton of space, but now have the whole closet available for storage. The installation was excellent, even vacuumed the insides of the drawers and wiped everything down. We also noticed they even filled in a screw hole from our previous closet rod! The timing from design to installation was much faster than we anticipated.

Amazing experience: My experience with California Closets was FANTASTIC! I downsized from a house to a condo and I needed to maximize my storage. I worked with the staff at California Closets and they created custom closet solutions for my five closets. The installers were super clean and very careful and treated my home as they would their own! The closets came out perfect and I can say that this was the best investment I made in my new space. We use them every day and I wouldn't change a thing!

Exceeded my expectations all around! From the designer (Pam) who spent time understanding my needs and came up with several designs to choose from to the installers (Sage) —all EXCELLENT!! Even the scheduling was easy and very communicative. Even better was my husband's reaction (oh, by the way, he thought it was unnecessary to have our closet done) when he exclaimed "wow that's impressive". Another positive is the pricing was competitive and within my budget. I wasn't "upsold" but rather was shown features based on my requirements. I will HIGHLY RECOMMEND California closets as well as Pam (designer) and the installers (Sage) who were so personable, took pride in their work, and genuinely were as happy as I was when the job was finished. They also didn't make a mess, put drop cloths down, and cleaned up like a house cleaner!

We had the BEST experience with California Closets of Norwalk!! We started our journey by sending a request online and were almost immediately contacted by them. We set up an appointment with our designer, Dominika for the following week. She came to our home, took measurements of our master closet, and brought my entire vision to life on her laptop. She immediately sent me all of the schematics and the proposal with pricing. She worked with me to get exactly what I wanted within our budget. We booked the install for about a month out. We elected to have our current closet hardware removed by California Closets and they made sure that this would happen the day before our install as to not displace us for too long. Eric and Al arrived right on time and dismantled our current closet and put up a fresh coat of paint. They were very nice and efficient! The following day, Jose came and installed our closet seamlessly. He was polite and friendly and made sure that everything was up to my standards before leaving. Honestly, everything was perfect from start to finish and I am currently planning our mud room renovation!
VISIT A SHOWROOM IN CONNECTICUT
Visit our Norwalk showroom located at 565 Westport Avenue in Norwalk. Next to Pepperidge Farm Inc. and across from Bank of America
THE IDEAS OF ORDER PODCAST

Our new podcast with designer and HGTV star Jeremiah Brent features candid conversations on the spaces that shape us.

Designing a Closet for a One-of-a-Kind Residence
See What's Happening in Connecticut
Best of Norwalk 2023 Closets/Organization

We are honored to be chosen as the Best of Norwalk 2023 for Closets/Organization.

Best of the Gold Coast Connecticut 2023 for Closets/Organization

We are honored to be chosen as Best of the Gold Coast Connecticut 2023 for Closets/Organization.

Best of New Canaan, Darien, and Rowayton Magazine 2023

We are honored to have won the Best of New Canaan, Darien, and Rowayton Magazine 2023 for Closet/Organization!
Favorite Local Projects Near Connecticut
We'll collaborate with you to make every room in your home work better for you. See some of our favorite projects right here in Connecticut.
Functional and fashionable storage solutions

The design team from California Closets put together several ways to organize your closet.

How to easily utilize your closet space

The design experts from California Closets have provided easy ways to fold your sweaters.

Spice up your kitchen pantry with these closet ideas

Our designers have put together several ways to spice up your kitchen and organize your home.
Meet Our Designers
The best in Connecticut
From an initial conversation through design and installation, our expert design consultants will guide you through the California Closets process and collaborate with you every step of the way. They are committed to serving you and believe that exceptional design can help us all live more organized and happy lives.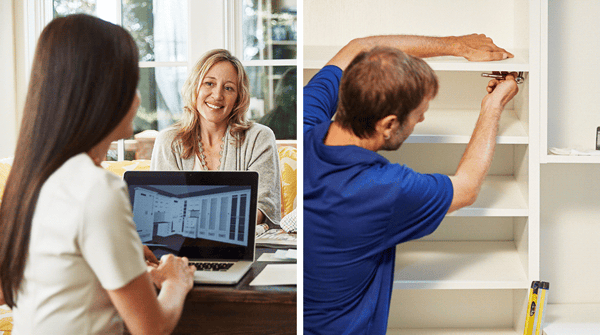 Career Opportunities
Join us in our mission to design better lives through custom storage solutions and organization. At California Closets, New Haven, Connecticut, we pride ourselves on being an outstanding employer that offers excellent benefits, competitive salaries, and professional development.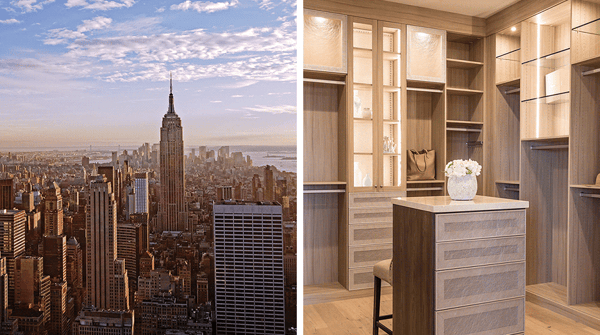 To The Trade
Throughout our more than 40 years as the leader in custom storage, we've worked as a trusted partner on thousands of projects with some of the most talented home professionals. To collaborate on your next project, join our Trade Partnership Program today.