Learn more about our TouchLessService™.
Read More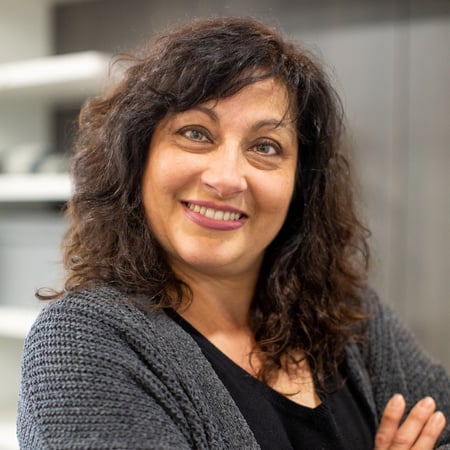 Virginia Cocca
Design Consultant
I have been with California Closets for over 20 years now. Prior to closets design I worked in the fashion industry. I worked for Liz Claiborne in knitwear production. I was responsible to make sure that the designs got our lines designed on time and communicated to the factories making them on time and efficiently. It was very exciting and I loved it but I needed to be in NYC for that. Once I got married and we started a family I decided to stay home for a little bit. That was short lived! I quickly felt a need to get back to working in "fashion" with clothing in some way. I stumbled upon an ad for a closet designer and the rest is history. My favorite part of working with California Closets is that we are always looking to do more and exciting work for clients. We always have what's in fashion in terms of colors, lighting and keep up with the industry. We are leaders in our industry and we don't just do closets. I can never get bored! I am able to go out and meet new people and see new places every day. Working with interior designers, architects, and home owners to create a space that is fulfilling to them. My customers trust me to help them make decisions. I am responsive and I listen to their needs with patience and understanding. I translate their dreams and wishes into reality. It is a very exciting and fun process! I am committed to satisfying my clients needs with creating a functional space that will grow with them and make them happy every day that they use it. My clients know I am always there for them. Here's to another 20 years. I look forward to working with you soon!
I've used California Closets in both my homes for many installs. Virginia Cocca has designed some very creative and effective solutions for our needs. Love this company. Would highly recommend.

Virginia Cocca was my point of contact for California Closets. She was very warm and professional. She was attentive and responsive to every question and concern. Thank you so much Virgina. We love our new mud room!

If you are looking for an affordable and stylish way to update your home, contact California Closets. Our designer, Virginia, was a pleasure to work with and designed systems to meet our budget and taste. The installation was quick and their materials are excellent quality. We look forward to adding a new walk-in pantry soon!