Learn more about our TouchLessService™.
Read More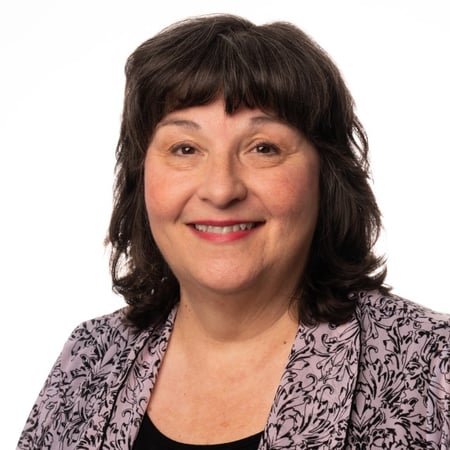 Donna Guarisco
Design Consultant
I love to help my clients design their dream space. Whether it is a closet, a home office, a media center, a garage, or any other underutilized space, I am confident that I can help achieve your goals for the area. I have over ten years of design experience, and I am very excited to come to your home and share that experience with you. I bring my laptop and my ideas, and when the consultation is complete, you will see a beautiful visual presentation of your space in a 3D rendering of a unique design.
Donna Guarisco's Portfolio
I'm committed to listening, collaborating, and working with you to design a custom solution that will optimize any space in your home. Here's a collection of some of my favorite projects to help you get inspired.
Donna is my go to closet designer! In my last 2 homes she's designed multiple closets and a pantry. The installs were always as scheduled and done well. Most recent was an extensive pantry system that actually "WOWED" my general contractor that handled the rest of my remodel. She helped me pick the perfect combination and I couldn't be happier. Same with all the closets she designed. She knows her stuff!

Donna designed our first closets years ago, it was a surprise Christmas gift from my husband. She did 2 closets in our master bedroom and a closet in our daughter's bedroom. Our daughter had over 60 pairs of athletic shoes. Donna customized a closet for her shoes and clothing! Recently, we have moved and one of our first calls was to Donna. She did our master closets again, in a matching pattern to our old house, which makes it so easy to transition to. Our daughter lives in a house attached to ours, and Donna re-designed 2 closets in her new bedroom to accommodate her now over 100 pairs of shoes. We are very thankful for Donna's organizing skills and to California Closets

Donna from California Closets has helped me with quite a few closet projects through the years, I really enjoy working with her, she always comes up with great ideas to make my closets functional and beautiful. Highly recommend!

Donna is amazing to work with. She has designed multiple closets for us and her attention to detail is always spot on. The installers have also been amazing to work with. Always on time and professional. I highly recommend them.

We can't thank Donna and California Closets enough for the exceptional job they did. Everything from the initial design process to final installation exceeded our highest expectations. We absolutely love our closet.

Wow, where do I start? Donna is great she helped me through the entire process of getting 5 spaces just how I need them. I had three different guys working on the project one did 4 closets and about month later two new guys did my master. I was bummed at first that two new people came because the first guy was so good. But they're all like that they're amazing! Both were super nice, knowledgeable, and kept everything so clean! I wish I had another closet to install. Thanks for everything!!!!!