Learn more about our TouchLessService™.
Read More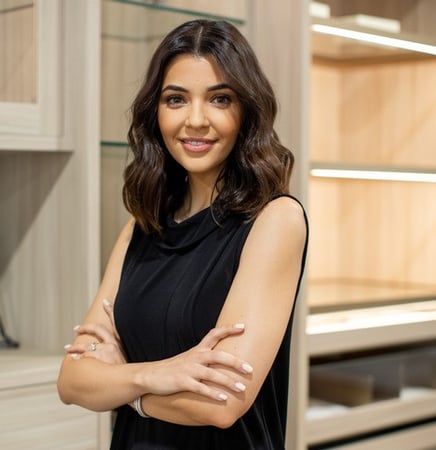 Elizabeth Lulgjuraj
Design Consultant
Elizabeth Lulgjuraj's Portfoliio
I'm committed to listening, collaborating, and working with you to design a custom solution that will optimize any space in your home. Here's a collection of some of my favorite projects to help you get inspired.
Custom Walk-In

This closet features Morning Light color boards, drawers, and shelving in a stylish finish. It is a personalized storage space designed to maximize organization and functionality, tailored to the specific needs and preferences of the homeowner.

Luxe Home Office / Wall Unit

This is a home office that doubles as a wall unit for storage. The image showcases a custom-designed Dove White system with a sleek matte blue countertop, which provides ample workspace. The wall unit also features glass insert doors that add a touch of sophistication while providing an opportunity to display decorative items. This system offers a practical and stylish solution for organizing office supplies, books, and other household items, making it a versatile addition to any home.

Custom Drybar

A dry bar is a stylish and compact setup for serving beverages without plumbing. It typically includes storage for drinks and glassware, making it a convenient addition to various living spaces.

Custom Home Entertainment System

This Entertainment System offers a contemporary and sleek design with doors and drawers for storage. The system is customizable and designed to fit the specific needs of the homeowner, with ample space for a TV and other media components, as well as storage for books, games, and other household items. This entertainment center provides a practical and stylish solution for organizing and displaying entertainment equipment and accessories.

Custom Dressing Room with Integrated Lighting

A walk-in closet with an island is a luxurious and spacious storage area for clothing and accessories. The centerpiece is an island, a freestanding structure in the middle of the space, offering additional storage, counter space, and sometimes seating. The island may have drawers for organizing smaller items, providing a stylish and functional focal point within the expansive walk-in closet.

Reach in Primary Closet

A custom reach-in closet features tailored organization in a limited space, with sliding mirror doors adding style and functionality for dressing.

Custom Garage storage

Organize your tools and trinkets with our custom garage solutions.

Custom Pantry Solution

A pantry with a butcher block countertop is a functional and stylish storage space for kitchen essentials. The pantry is equipped with shelves and cabinets for organized storage, while the butcher block countertop provides a durable and versatile surface for meal preparation or additional workspace. This combination of practical storage and a quality countertop makes the pantry an efficient and aesthetically pleasing part of the kitchen.

Walk in Closet

A simple walk-in closet is a modest yet functional storage space designed for organizing clothing and accessories. It typically includes hanging rods, shelves, and perhaps a few drawers to facilitate easy storage and retrieval of items. The simplicity ensures efficient use of space while providing a practical solution for keeping clothing and accessories neatly organized within a dedicated area.