Learn more about our TouchLessService™.
Read More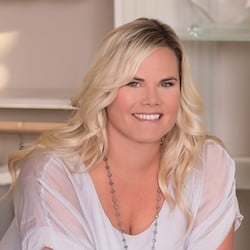 Heather Records
Senior Designer + Design Lead
Anyone that knows me, knows how passionate I am about my career with California Closets. It's hard to hide my enthusiasm for design; and combined with my love of customer service, oftentimes I forget that I am actually working! I came to California Closets in 2010 with a Bachelor's Degree in Interior Design, as well as 8 years of experience in residential and hospitality design, however I have finally found a career that I genuinely love! As a self proclaimed advocate of California Closets, my goal is to earn your trust in me, my team, and this exceptional company. I want your experience to be comfortable and seamless from start to finish, and will do whatever it takes to earn your business. I sincerely enjoy getting to know my clients and collaborating with them on the best solution, so that they can trade their "chaos" into tranquility throughout their home. I look forward to creating your custom space with you and transforming your life!
Heather Records's Portfolio
I'm committed to listening, collaborating, and working with you to design a custom solution that will optimize any space in your home. Here's a collection of some of my favorite projects to help you get inspired.
Heather took a small space and created a one of a kind customized office with a T-shaped desk for myself and my girlfriend to work. She counted every piece of clothing in my closet to make sure I had space for everything and took showed me where to take out a wall to make it all fit in the small space. We literally used every inch and it feels extremely spacious and looks beautiful It's a show stopper.