Learn more about our TouchLessService™.
Read More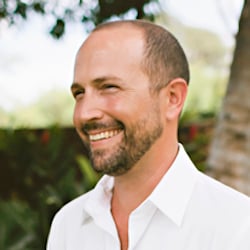 Jason Bohn
Design Consultant
I listen very closely to my client's needs and create custom storage solutions that enhance their lifestyle. Every client has a unique style and vision, and the designs reflect this diversity. My goal is to exceed every client's expectation. I have been working for California Closets for over 20 years. I have experience as a Design Consultant and as an Installer and I'm very excited to be able to do both here on the Big Island of Hawaii. From the initial design to the finishing touches of the installation, I have the rare opportunity to work with my clients every step of the way. I truly love my job! It is most fulfilling when I hear a client say, "Wow, I'm so happy with my closet! It's everything I expected and more!" When I hear this kind of feedback, I know that it's a job well done, and I feel privileged to represent such an amazing company.
Jason Bohn's Portfolio
I'm committed to listening, collaborating, and working with you to design a custom solution that will optimize any space in your home. Here's a collection of some of my favorite projects to help you get inspired.
We need a closet design to fit our needs for organizing, simplicity, efficiency and ease of access. We got everything we wanted. The design: perfect! The look: excellent! Ease of operation: wonderful! Job completed: in a very timely manner! My family is very pleased with everything. Thank you Jason and Thomas! Well Done!

Jason was very helpful, friendly and knowledgeable. I'm very pleased with my new closets and with the service he provided.

Jason was extremely prompt and communicative, and had some good ideas to improve the original plan once he saw the space in person.

Jason made the process very easy for me. I liked seeing the CAD drawings to help visualize it.

Jason was an absolute awesome professional to work with from responding to my inquiry to coming over to assess and help me to think out the design of my closet for function, to sending me a drawing and proposal (same day!) that reflected everything we discussed during his site visit to coordinating installation down to final install - SIMPLY AWESOME!!! Mahalo Jason!

Quality product. Expert design and installation. Prompt and courteous service.

The custom design was completed in the first visit, so we could see it, change it, approve it right away. The cost estimate was immediate. It took about 4 hours to install. And the result is amazing. Very fast and convenient, completely customized, gorgeous result. What's not to love?

Jason Bohn has been very responsive and submitted a design and quotes for a closet installation within the same day of meeting with him. We are very impressed with him. Thank you, Jason!

I love the product. This was the second home I have installed California Closets in. Jason was very professional and friendly to work with. The installation went precisely to his great design. He was timely and punctual with no delays or cancellations for the installation. The closets have an easy functionality, are sturdy and beautiful.

Our consultant was very good with ideas and coming up the final plan, and willing to make changes along the way to create exactly what we wanted in the closets.