Learn more about our TouchLessService™.
Read More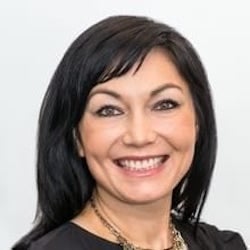 Jeanne Scott
Design Consultant
Besides working and interacting with customers, I'm proud to be a designer at California Closets thanks to its overall reputation of quality and service. With over 15 years of experience here, it's been a positive experience to be affiliated with the industry leader in closet storage innovation and high installation standards. I look forward, daily, to being in a place that continually demands excellence while still allowing a healthy and positive work environment. When working with a client, the most important thing is to listen. By collaborating with them on the design, you accomplish two things: You give them a sense of control, and you educate them about the design process. With their input and by sharing my experience, they will not only worry less, but will have a greater sense of ownership over it and will be less likely to reject the result. I've been privileged to work with a number of both simple and also complex projects that have incorporated interesting and creative design angles. One in particular was a wall bed, library/desk configuration that was set in a limited area. It presented me an opportunity to maximize my design muscles and come up with something that gave the client smart efficient storage with multiple uses and when the bed was not being used, it served as a beautiful wall of decor. With so many top quality products it's difficult to choose a favorite but our Tesoro collection stands out because of its exclusivity to California Closest; made in Italy and imported direct to us! The fact that it's also a green product, made with E1 wood to reduce emissions potential, and it's Carb 2 compliant, being processed according to strict European standards for clean and safe wood manufacturing. Customers quickly fall in love with its look!
Jeanne Scott's Portfolio
I'm committed to listening, collaborating, and working with you to design a custom solution that will optimize any space in your home. Here's a collection of some of my favorite projects to help you get inspired.