Learn more about our TouchLessService™.
Read More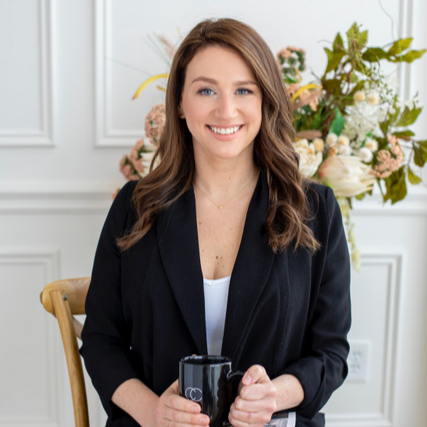 Jenna Wittbrodt
Design Consultant
There is an amazing feeling of accomplishment and peace in having an organized space. As I spend my days in peoples' homes, I've learned that although no two people are the same, what we have in common is that we all want to enjoy the space in which we reside. I don't want you simply to like your design, I want you to love it! Let's collaborate and make your dreams a reality!
Jenna Wittbrodt's Portfolio
I'm committed to listening, collaborating, and working with you to design a custom solution that will optimize any space in your home. Here's a collection of some of my favorite projects to help you get inspired.
Every girl has a vision of her dream closet and thanks to Jenna from California Closets I definitely got mine. 😊 Thank you soo much for helping me with the whole process. California Closets were super professional, designed everything to detail, delivered when promised and the end product was beyond amazing. I was dreading designing and going through the whole process of designing the closets for my sons and us, but Jenna made it seem effortless and super quick. Highly recommend California Closets and would definitely use them again in a heartbeat. 💕

We had such a pleasant experience working with Jenna at California Closets. She listened to our wants and needs and developed a plan for our closet. She was creative, professional, and well informed. She respected our budget and made sure we got the most out of it. Thank you for all the help!

Jenna, who came to design our closets, was very friendly, responsive, and helpful. She took the time to understand our vision, answer all of our questions, and was flexible in modifying the design until we loved the final product. All interactions I have had thus far with California Closets have been very welcoming and helpful. I would highly recommend California Closets to my friends and colleagues and have already discussed the great service with them!

Excellent experience. The closet is beautiful and well installed. I could not be happier. Jenna was terrific from start to finish, from being very helpful with the design to showing up to make sure the installation was proceeding well. All time commitments were kept. The price was reasonable and half was not payable until after installation, which says a lot about how California Closets wants to make sure its customers are satisfied.

The designer who helped me, Jenna, was knowledgeable, easy to work with and helped me get a perfect configuration. She was very professional and made the whole process informative and efficient. Besides being helpful she had a great personality. The software tool to see the 3D and 2D renderings are extremely helpful. I also really liked the product and ended up with the 'Linen' finish. Finally, I really liked the people at the store. Gloria at the front desk was delightful. Everything about this experience was good.

Jenna was amazing. We were somewhat indecisive on timing, went back and forth on sizing...she never even broke a sweat! She was so accommodating and the installer was efficient and cleaned everything up before he left. This is the third project they have done for me, and they never disappoint. I would absolutely recommend them.

Jenna was amazing!!! I thought I knew exactly what I wanted for my master closet island; yet additionally, she came up with so many suggestions that I loved. I will definitely be using California Closets, and Jenna, again.

I really appreciated working with Jenna she is warm and friendly, listened well to what I wanted in my closet, appropriately prompted me with information and suggestions to help shape the plan, kept the project in my price range, and created for me a 3D view of my closet. She is a very competent consultant!

Jenna was amazing. Not only was she patient with me when I made changes to what we thought was the final product, she was also very helpful in helping me design the closet I both wanted and needed.

It was seamless. Jenna was incredibly knowledgeable and made the design process easy. My closet, my husband's closet, and our mudroom look fantastic!